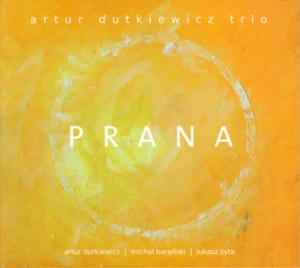 ARTUR DUTKIEWICZ ~ PRANA
PIANOART 5907760035042 (Barcode: 5907760035042) ~ POLAND ~ Jazz
Recorded: 2013
Released: 2014
---
This is the sixth album by Polish Jazz pianist / composer Artur Dutkiewicz

Find albums by this artist

, who is back in a classic piano trio format with bassist Michal Baranski

Find albums by this artist

and drummer Lukasz Zyta

Find albums by this artist

. The album presents eight compositions, seven of which are originals by Dutkiewicz and one is an adaptation of a folk tune. The album was recorded at the Studio Tokarnia and engineered by Jan Smoczynski

Find albums by this artist

, which of course guarantees excellent sound quality.

Dutkiewicz has an impressive resume and his contribution to the Polish Jazz scene is of course invaluable. He played for many years with the late saxophonist Tomasz Szukalski, recording with him several albums. One of the tunes on this album is dedicated to the memory of Szukalski.

The music Dutkiewicz presents on this album is very contemplative and more lyrical than usual in his case. There is also a great affinity with the Blues, a genre which is definitely one of his deepest musical sources of influence, which he openly refers to on this album, something that is rarely done by other contemporary pianists. A couple of tunes on this album re-visit the preceding album called "Mazurki

Find albums with this title

", presenting music inspired by Polish folklore. Overall this is a consistently interesting selection of beautifully melodic pieces, which are performed with great sensibility and finesse.

As far as personal performances are concerned, there are no surprises herein. Dutkiewicz is an excellent pianist by any standard and his performances here are superb from start to finish. The rhythm section is also stellar, providing just the right support whenever needed and presenting both first class professionalism and mutual respect between the leader and themselves. In short this is an instant "classic" and piano trio connoisseurs should find it simply irresistible.

Let´s hope that the same kind of prana (life force) that allowed Dutkiewicz to create this little gem will stay with him for many years to come. Well done indeed!
---