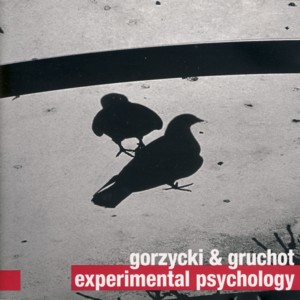 GORZYCKI & GRUCHOT ~ EXPERIMENTAL PSYCHOLOGY
FOR TUNE 0021 (Barcode: 5902768701210) ~ POLAND ~ Jazz
Recorded: 2013
Released: 2013
---
This is the debut album by a new duo, in which two Polish musicians combine forces to create new, experimental, adventurous music: drummer / percussionist / composer Rafal Gorzycki

Find albums by this artist

and violinist / composer Sebastian Gruchot

Find albums by this artist

(resident since many years in Norway). Gorzycki is one of Poland´s most prolific and fascinating activist known to listeners of contemporary Polish music from his activities as a member of such ensembles as Sing Sing Penelope

Find albums by this artist

, Ecstasy Project

Find albums by this artist

and other collaborations. Gruchot also participated on several Sing Sing Penelope albums, but most of his work is in the sphere of contemporary Classical, Avant-Garde and electronic music. The album presents eight original pieces, seven of which were co-composed by the duo and the last one is by Gorzycki.

The music is a wonderful glimpse into a new musical universe, which is intimate and often minimalistic, but extremely expressive and captivating. As difficult as it is to come up with something truly innovative these days, the duo manages to do it brilliantly. The seemingly endless array of percussive sounds, rhythms and patterns that Gorzycki manages to produce is simply awe-inspiring. He is one of the very few drummers, who actually play on their instrument, rather than beat the hell out of it. Gruchot is an ideal partner in this process, as his idiosyncratic contribution on strings or electronics are also very "percussive" and compliment the sounds produced by Gorzycki.

There is very little melody here in the conventional sense, and it is up to the listener to discover and possibly to weave his own melodic content around the ambient vistas produced by the duo. Perhaps this is an opening of a new Art Form, where the listener actually participates with the musicians in the process of creation on an imaginary plane, or perhaps it´s just my feverish imagination. In any case this music is definitely something else in every sense.

In his liner notes Gorzycki says that he wanted to move away from the familiar Jazz patterns he operated within for many years. He surely managed to do it here, but rather than abandoning them he transformed them into new tools of expression. True, this is not straightforward Jazz in any sense, but why should it be. The path of constant progress, discovery and exploration is the only true path of every Artist, and we, the audience in this case, should be grateful for the gift bestowed upon us as a result.

This is definitely one of the best experimental albums recorded in Poland in 2013 and hopefully will be discovered by open-minded listeners. I ca only salute Gorzycki & Gruchot for being honest to themselves and doing their own thing. Chapeau!
---