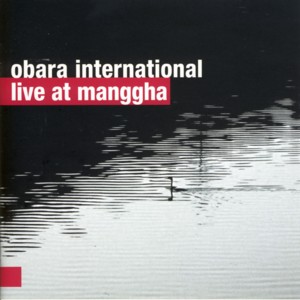 OBARA INTERNATIONAL ~ LIVE AT MANGGHA
FOR TUNE 0022 ~ POLAND ~ Jazz
Recorded: 2013
Released: 2013
---
This is the second album by the international quartet led by Polish Jazz saxophonist / composer Maciej Obara

Find albums by this artist

, called Obara International

Find albums by this artist

, which also includes the superb Polish pianist Dominik Wania

Find albums by this artist

and a Norwegian rhythm section: bassist Ole Morten Vagan

Find albums by this artist

and drummer Gard Nilssen

Find albums by this artist

. The album, which was recorded live, comprises of six pieces, five of which are original compositions by Obara and the remaining one is by Krzysztof Komeda

Find albums by this artist

, to whom this group dedicated their debut album, simply called "Komeda

Find albums with this title

".

The music is placed somewhere between Free Form and contemporary Modern Jazz of the European variety. Most of the tunes get an expanded treatment, which includes extensive solo and group improvisations, and last around ten minutes each except one tune which is almost twice as long and the closing track which is a brief farewell. Although the melodic content is clearly recognizable, it is kept somewhat in the background, as if on a separate plane, and the improvisations are the focal point of this music, changing in tempi and intensity, but always out there on the forefront.

The level of musicianship involved herein is truly admirable and of the highest standing by any standard. This is by far not easy music and the amount of technique, talent and sophistication required in order to play it is simply astounding, not to mention the emotional tension. The entire concert portrays a wonderful flow of energy between the quartet members and of course the combined creative power of the quartet is even greater than the sum of the individual statements. Personally I enjoy the contributions by the pianist most of all. Wania, whom I´ve been watching carefully for a few years now, is definitely one of the greatest promises of Polish Jazz and is destined to get places. His brilliant work on this album, both as a soloist and as an ensemble member, is simply outstanding. Obara is a great player as well, of course, but his melancholy and mellow tone often seem to push the music somewhat backwards into the mainstream conformity. The Norwegian rhythm section is solid and reliable, when needed, and inventive and spontaneous when the music calls for it, in short they play splendidly, as only the Scandinavian rhythm sections can.

Overall this is another musical gem that the Polish For Tune label manages to put out for the world to hear and admire. The sound quality, separation and warmth are incredible considering the fact that this is a live recording. European Jazz connoisseurs are expected to lick their fingers upon exposure to this wonderful music. Well done gentlemen!

BTW Obara´s Polish quartet uses the excellent RGG

Find albums by this artist

rhythm section: bassist Maciej Garbowski

Find albums by this artist

and drummer Krzysztof Gradziuk

Find albums by this artist

, which of course is also a dreamy team, so where is their next album I ask?
---