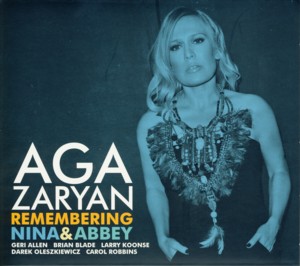 AGA ZARYAN ~ REMEMBERING NINA & ABBEY
PARLOPHONE 5099940988122 (Barcode: 5099940988122) ~ POLAND ~ Jazz
Recorded: 2013
Released: 2013
---
This is the eighth album by the Queen in residence of the Polish Jazz scene since several years, the wonderful Aga Zaryan

Find albums by this artist

. As the title clearly points out, Zaryan creates here a tribute to two remarkable Afro-American female vocalists, which she admires not only for their superb vocal abilities but also for what they stood for as public figures fighting against discrimination, abuse of human and civil rights, chauvinism and sexism, both openly voicing their opinions and willing to pay the price associated with such behavior at the time. The album presents thirteen songs, all of which are either written by or associated with Nina Simone

Find albums by this artist

and Abbey Lincoln

Find albums by this artist

. Zaryan is accompanied by a formidable team, which includes pianist Geri Allen

Find albums by this artist

, guitarist Larry Koonse

Find albums by this artist

, harpist Carol Robbins

Find albums by this artist

, bassist Darek Oleszkiewicz

Find albums by this artist

and drummer Brian Blade

Find albums by this artist

.

Zaryan is known for her artistic courage, which she already proved several times during her career. This project is undoubtedly the boldest step she ever undertook, as Nina & Abbey are among the most idiosyncratic vocalist ever and in most cases any attempt to interpret their original work leads to miserable failure. Zaryan decided to approach this repertoire on her own ground, treating the songs with a new approach, reshaping them rather than trying to simply interpret them, and by doing this she managed to escape the intrinsic dangers and traps. Of course such treatment might be considered disrespectful by purists, but listening to sticklers is by definition contradictory the spirit of artistic innovation.

One of the transformations Zaryan applied to all these songs was to slow them down, sometimes just slightly and in other cases considerably. As a result this album as a whole is deeply melancholic, a state of mind which Zaryan always uses to her advantage, as she is a Grand Mistress of lyricism and its dark corners and flickering lights. Yes, it is that famous Polish melancholy, which adds a new dimension to the original songs, amalgamating the black soul of Afro-American lyricism with the tormented Polish spirit.

Another decisive factor, which creates the special atmosphere that this album conveys, is the limited and sparing usage of the instrumental accompaniment and the inclusion of the delicate harp, which ideally suits the mood. The musicians present here are all masters of their trade, which of course is easily audible, but the way Zaryan is positioned in the center of the stage with the instruments sympathetically supporting her, is simply remarkable; a classic example of personal graciousness, respect and modesty on their part.

This is another important step for Zaryan, which expands yet again her overall position as complete Artists, this time putting aside the role of a composer of original material and concentrating on interpreting the work of other women. Hopefully weŽll hear her again soon singing her new original material. In the meantime this one should keep us worm for a while. Thank you Dear!
---