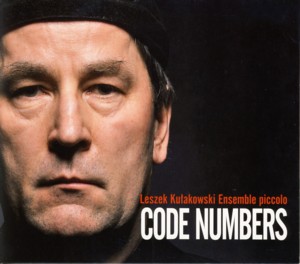 LESZEK KULAKOWSKI ~ CODE NUMBERS
MUSIC VOX ~ POLAND ~ Jazz
Recorded: 2009
Released: 2010
---
This is a wonderful piano trio album by Polish Jazz pianist / composer Leszek Kulakowski

Find albums by this artist

with bassist Piotr Kulakowski

Find albums by this artist

and drummer Krzysztof Gradziuk

Find albums by this artist

(of RGG

Find albums by this artist

fame). The album presents thirteen original compositions, all by Kulakowski, some quite short, like outlines if a musical idea which is repeated four times, others lengthy and expanded with elaborate improvisations. The album was recorded at the Studio Tokarnia and was engineered and mastered by Jan Smoczynski

Find albums by this artist

, as usual with spectacular sonic results.

Kulakowski is a musician of many diverse preferences, moving between the pure Jazz idiom and Jazz-Classical Fusion, feeling comfortably in both situations. Although this album presents him in seemingly "pure" Jazziness, both his playing and his compositions always incorporate a certain element of contemporary Classical music, even if not stated openly. He is a master of melody, but also of atmosphere and suspense, which keeps the listener in a state of anticipation. Personally I find this ability quite remarkable as it emerges in Kulakowski´s work with such intensity for the first time since the works of Krzysztof Komeda

Find albums by this artist

, the Godfather of Polish Jazz, were created in the late 1960s. The music also champions the typical Polish lyricism and intrinsic melancholy, which although omnipresent in Polish Jazz, are rarely revealed with such exquisiteness and compassion, as in the music presented here.

The performances are all quite brilliant, with the piano often performing without accompaniment, and when the whole trio is present, the rhythm section often takes a deliberate step back, respectfully keeping the piano in the spotlight. Of course when the rhythm section does step in full swing, the musicians sound like one coherent unit. Gradziuk displays his usual virtuosic, yet reserved ability to keep time in a most inspired way and even is his solo tries not to outshine his colleagues. The bassist also performs wonderfully, providing those magnificent riffs that keep the anticipation in the air. The whole thing is simply brilliant.

This music should be heard by every piano trio connoisseur on this planet, as it is definitely has to offer many novel ideas and deeply moving music, which deserves to be discovered and shared. Not to be missed!
---