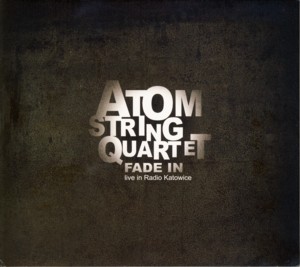 ATOM STRING QUARTET ~ FADE IN
KAYAX 050 (Barcode: 5907678818096) ~ POLAND ~ Jazz-Classical Fusion
Recorded: 2011
Released: 2012
---
This is the debut album by the Polish Jazz string quartet called Atom String Quartet

Find albums by this artist

, comprising of violinists Mateusz Smoczynski

Find albums by this artist

and Dawid Lubowicz

Find albums by this artist

, violist Michal Zaborski

Find albums by this artist

and cellist Krzysztof Lenczowski

Find albums by this artist

, which introduced a novel and revolutionary concept on the local scene combining the Classical Chamber music tradition and Jazz. The violin has been used in Jazz over the years, although not nearly often enough as this noble instrument truly deserves, but a concept of a string quartet which plays improvised music is actually pretty rare and has but a few parallels worldwide. The album was recorded live at Polish Radio Katowice and presents ten compositions, one of which is a standard, two are arrangements of compositions by the Godfather of Polish Jazz Krzysztof Komeda

Find albums by this artist

and the rest are original compositions: two each by Lenczowski and Zaborski, one each by Lubowicz and Smoczynski and the remaining one co-composed by Lenczowski and Smoczynski.

The initial impact of this music is quite overwhelming, especially to listeners who are familiar with Classical music or Chamber music in particular, in parallel to their Jazz exposure. The string quartet is the "holy grail" of Classical music and such unconventional usage of the quartet as heard herein is truly surprising at first. But as the music takes the listener further and further into this unique world of sound, a transformation occurs from surprise and awe into joy and delight. Hearing a string quartet swing is an unearthly experience, recommended to every Classical music lover.

Of course all four individual members of the quartet display virtuosic abilities and their combined performance is nothing short of amazing. Since they don´t play Classical Chamber music it is impossible and improper to compare them to those quartets which do so. Atom String Quartet is a class in itself and until another quartet arrives doing what they do, which is highly improbable, they are safe from comparisons.

Since the music is mostly original, the quartet also has a lot to offer on the compositional platform, which is yet another aspect of their strength. They manage to bring forward a diverse scope of musical influences in their original compositions, not only from Classical music but also from Jazz and even Rock (Lenczowski is also a gifted Jazz-Rock / Fusion guitarist), which make their program interesting and full of unexpected surprises.

There is no doubt that this is an exceptional album, which breaks new ground and opens new possibilities and yet comes from deep respect of existing musical tradition. Events like this are very rare and therefore they should be celebrated accordingly by all music connoisseurs. One can only hope that this music will reach listeners beyond the local Polish scene, as it so much deserves.
---