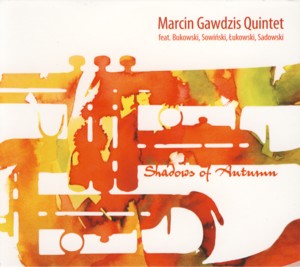 MARCIN GAWDZIS ~ SHADOWS OF AUTUMN
SOLITON 305 (Barcode: 5901571093055) ~ POLAND ~ Jazz
Recorded: 2013
Released: 2013
---
This is the debut album as a leader by Polish Jazz trumpeter / composer Marcin Gawdzis

Find albums by this artist

recorded in a quintet format with saxophonists Szymon Lukowski

Find albums by this artist

, vibraphonist Dominik Bukowski

Find albums by this artist

, bassist Maciej Sadowski

Find albums by this artist

and drummer Tomasz Sowinski

Find albums by this artist

. The album includes seven compositions, six of which are Jazz standards and one is an original composition by Gawdzis.

The format is, as expected, a straightforward mainstream Jazz, which basically offers the "more of the same" formula of this format, which was previously used countless times earlier. Of course all these musicians are perfectly well trained professionals and their playing is spotless and even inspired at times, but the question is why listen to this specific album as opposed to countless others exactly like it? Let´s leave the Americans to keep repeating themselves ad nauseam with their mainstream Jazz and look for something at least slightly different?

But all things considered this is after all a very good mainstream album, which will surely keep listeners of such music very happy. Gawdzis has a nice round tone and plays solidly, without taking many risks or offering bravado displays. Bukowski, who is the most interesting player in this quintet, displays his usual virtuosity, but the battered standards don´t leave him with many options to show up his true abilities. The rest of the guys schlep on happily and without much effort.

Not really my cup of tea, as this is nice, but banal music as far as I´m concerned, but I´m sure many other listeners will be able to enjoy it.
---