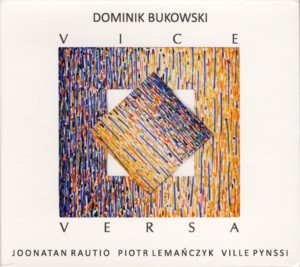 DOMINIK BUKOWSKI ~ VICE VERSA
SOLITON 125 (Barcode: 5907577112530) ~ POLAND ~ Jazz
Recorded: 2009
Released: 2009
---
This is the third album as a leader by Polish Jazz vibraphonist / composer Dominik Bukowski

Find albums by this artist

recorded in a quartet format with two Finnish musicians: saxophonist Joonatan Rautio

Find albums by this artist

and drummer Ville Pynssi

Find albums by this artist

and his faithful companion since many years bass virtuoso Piotr Lemanczyk

Find albums by this artist

. The album presents seven original compositions, three each by Bukowski and Rautio and one by Lemanczyk.

Although well within the Jazz mainstream, this album simply fulfills all the basic requirements expected from a superb Jazz production: beautiful melodies, excellent improvisations, superb teamwork and a crystal clear sound quality. Bukowski, as evident from his numerous other recordings, is the top vibraphone player on the Polish scene and his eloquence is simply astounding, as are his composing skills. Lemanczyk, one of my favorite Polish Jazz bassists, is also perfect all the way through. His sense of melody and understanding of the role of bass in a Jazz ensemble is second to none. The two Finns, although still relatively young, display here first class musicianship and in the case of Rautio also great compositional talent. Overall this is a first-class mainstream album, which makes no compromises whatsoever, keeping the music swinging and melodic and yet full of elegance and flair.

This music has, perhaps unintentionally, a certain "retro" flavor, taking an experienced listener back to the 1950s and the Cool era, when the music was all about good taste and beautiful ladies. Of course any Jazz connoisseur should simply love this stuff to bits, as this music is so likeable that it makes you press the "repeat" button of your player instantly. Thank you guys for this little gem!

This album is now four years old and one can only hope that we won´t have to wait much longer for another Bukowski recording, what do you say Dominik?
---