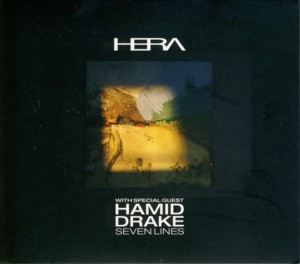 HERA / HAMID DRAKE ~ SEVEN LINES
MULTIKULTI 030 (Barcode: 5907796319512) ~ POLAND ~ Jazz-World Fusion
Recorded: 2012
Released: 2013
---
This is the third album by Polish Ethno-Jazz ensemble Hera

Find albums by this artist

, led by saxophonist / composer Waclaw Zimpel

Find albums by this artist

. The album contains a live concert recording by the ensemble, with featured as special guest the American drummer Hamid Drake

Find albums by this artist

. The participating ensemble members are: saxophonist Pawel Postaremczak

Find albums by this artist

, hurdy-gurdy player Maciek Cierlinski

Find albums by this artist

, guitarist Raphael Roginski

Find albums by this artist

, bassist Ksawery Wojcinski

Find albums by this artist

and drummer Pawel Szpura

Find albums by this artist

. The music consists of five pieces, four of which are over fifteen minutes in duration, all of which are based on World Music ethnic riffs and melodies, partly composed or arranged by Zimpel and in one case including a melody contributed by Drake. Except for Drake´s chanting his own melody, the rest of the music is instrumental and mostly improvised.

It is much easier to say what this music isn´t than to say what it actually is, but that is hardly relevant as music is basically created in order to be listened to and not to be written about. Nevertheless one can try one´s best. So this is definitely not Jazz as most people conceive it, not even Jazz-World Fusion, as it goes well beyond the usual boundaries of that sub genre. Yes it is mostly improvised, but so is much of Ethnic music, which after all begot Jazz in the first place.

The closest definition that I can come up with is Spiritual Music, a kind of collective trance induced by repeated rhythmic patterns and a feeling of sharing and togetherness, which inspires the musicians involved. However, the problem with such music is that is works absolutely divinely live, but translates less efficiently into albums. Of course in this case the actual music is strong enough to carry on a potent impression, but probably much is also lost in the process. This music is also definitely not for everybody. Conventional Jazz listeners will find it not Jazzy enough; others might find the strong Ethnic influences outlandish and unfamiliar. Only listeners with a highly developed open-mindedness and readiness to accept what is different will discover the true delight of this music.

The individual performances are of course blissful as always in Hera´s case. Zimpel and Postaremczak weave some beautiful snaky improvisations; Roginski rocks things up with a great guitar solo and the expanded rhythm section transports the music into a different universe. Overall it is quite a musical experience, which should not be missed. People familiar with the two earlier albums by Hera are of course already hooked for good.

I always wonder where Zimpel will take the ensemble next. I guess we´ll all have to wait until the next album appears before us. Until then, may the spirits of music be with you all.
---