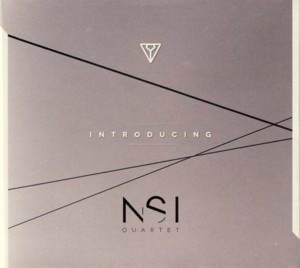 NSI QUARTET ~ INTRODUCING
FONOGRAFICA 5903292106045 (Barcode: 5903292106045) ~ POLAND ~ Jazz
Recorded: 2013
Released: 2013
---
This is the debut album by young Polish Jazz NSI Quartet

Find albums by this artist

, which comprises of trumpeter Cyprian Baszynski

Find albums by this artist

, saxophonist Bartlomiej Prucnal

Find albums by this artist

, American bassist Mike Parker

Find albums by this artist

and drummer Dawid Fortuna

Find albums by this artist

. The album presents seven original compositions; four by Prucnal, two by Baszynski and one co-composed by them both.

As usual with those debut albums appearing on the Polish Jazz scene the first impression is always that of astonishment and awe, considering the age of the contributors and their relatively limited experience. But apparently one has to get used to expect the unexpected, when listening to those releases time after time. Obviously this quartet leaves a strong impression and introduces new faces, which are about to become a part of the local scene for years to come, and considering their abilities as of now, no one can predict how far they will go eventually.

Musically however, NSI Quartet are quite different from other emerging young Polish Jazz ensembles, arriving on the scene in the last couple of years, primarily for the reason that they sound completely "non Polish" or even "non European", if such stylistic concept makes sense at all. If I had listened to the album blindfolded, I´d have never expected it originates in Poland or in Europe, as it sounds completely American in every respect; it is a semi-free kind of post Bebop, very popular on the USA scene, mostly among the Chicago-based AACM ensembles, in the late 1960s and 1970s. NSI Quartet´s music has the same kind of urgency, edge and even aggressiveness in it. But compared to the other Polish ensembles, it suffers on the melody front, emphasized even more strongly by the lack of a pianist in the group. Sure enough all this is intentional and of course completely acceptable, but the question "where is the melody?" did pop up in my mind from time to time while listening to this album.

Of course these young lions can play and play they do – with vigor and seemingly endless energy. Technically everything is top notch and all the ensemble members display their effortless powers of Swing. Baszynski dominates the overall sound and his frequent solos are all on fire. Personally I find his playing a bit too busy, but it must be the youthful eagerness to show what he can do. Prucnal on the other hand simply makes his statements elegantly, without further ado. The rhythm section is also rather on the busy-side, but this type of music justifies this kind of relentless drive, even it is somewhat heavy on the ear to the average listener.

Overall it´s still a damn good album, even if the music is a bit stuck in the past and the playing becomes somewhat over the top at times. These talented musicians will learn and keep surprising us in the future, that is for sure. Kudos for kicking off your career with a blast!
---