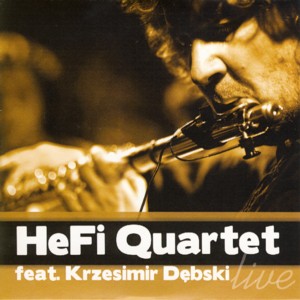 HEFI QUARTET ~ LIVE
NOT ON LABEL ~ POLAND ~ Jazz
Recorded: 2011
- 2013
Released: 2013
---
This is the third album by young Polish Jazz flautist / saxophonist / composer Leszek HeFi Wisniowski

Find albums by this artist

, this one being released under the moniker of his current HeFi Quartet

Find albums by this artist

, which also includes the fabulous keyboardist Pawel Kaczmarczyk

Find albums by this artist

, bassist Tomasz Kupiec

Find albums by this artist

and drummer Bartek Staromiejski

Find albums by this artist

. The music includes one studio track (from 2013), three live radio tracks (from 2012) and six live concert tracks (from 2011), which also feature the veteran violinist Krzesimir Debski

Find albums by this artist

. All the music was composed by Wisniowski except one track which is credited to the entire group and one which is a traditional folklore tune.

The music is exciting Modern mainstream with some World Music influences, a bit of Fusion and other ingredients, all well amalgamated compositionally and beautifully executed. The first part of the album (the radio / studio recordings) is mostly calm and relaxed, whereas the second part (the concert recordings) with Debski is much more energetic, loud and expressive, with Debski´s input being quite dominant. Overall the music is truly excellent, but the album suffers a bit from being a somewhat hectic collection of music recorded under different circumstances rather than an integral statement.

Wisniowski also makes a mistake of employing / inviting musicians, who are simply excellent, which sadly makes him the least impressive player of them all, even if he´s the leader. Kaczmarczyk completely "steals" the show with his superb solos, which are all simply brilliant, both technically and emotionally. The rhythm section also performs beautifully, way beyond just supporting the soloist, but actually contributing actively to the process of creating the music. These young musicians have already quite a lot of experience performing and even recordings behind them, which is immediately noticeable. Debski, as already mentioned, is a veteran with a very flamboyant style of playing. As a result the leader´s solos really sound rather pale in comparison.

Nevertheless this is still a very strong album, which many Jazz listeners will enjoy immensely. Not too complex and yet interesting and versatile stylistically, this is definitely something worth listening to and at the same time accessible to a relatively wide range of connoisseurs.
---