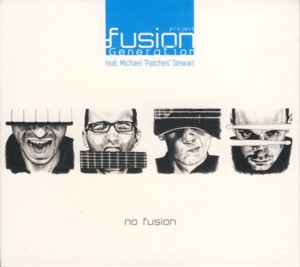 FUSION GENERATION PROJECT ~ NO FUSION
ALLEGRO 027 (Barcode: 5901157049278) ~ POLAND ~ Jazz-Rock Fusion
Recorded: 2012
- 2013
Released: 2013
---
This is the debut album by young Polish quartet called Fusion Generation Project

Find albums by this artist

, which consists of keyboardist Dariusz Petera

Find albums by this artist

, guitarist / cellist Krzysztof Lenczowski

Find albums by this artist

, bassist Lukasz Jan Jozwiak

Find albums by this artist

and drummer Krzysztof Kwiatkowski

Find albums by this artist

. They perform nine original compositions, six of which are by Petera and the rest are one each by the other three quartet members. Saxophonist Marcin Kajper

Find albums by this artist

and American trumpeter Michael Patches Stewart

Find albums by this artist

appear as guest on a few tracks.

The music is a nice brand of Jazz-Rock Fusion, on the lighter side of the genre almost touching on instrumental Pop occasionally. The tunes are very melodic and pretty straight-forward, but the level of performances as well as the general atmosphere of the album is quite excellent. There are also a few nice surprises, for example when the guitarist plays the cello out of the blue, and other less enjoyable ones when the album starts with a long drums solo track. The keyboardist, who is also the principal composer of the material, is the Jazziest player in the quartet, whereas the guitarist (at least when playing the guitar) is a definite Rocker. The excellent rhythm section is quite Funky on the other hand, so the overall effect works well, without taking any major risks.

The usage of the sax and trumpet seem a bit out of place as the band sounds pretty balanced as a quartet and loses the focus with the addition of the brass. Stewart´s solos, although adequate, seem out of place stylistically and sort of misguided. But overall the music is good fun and a nice listen, especially when driving.

I´d prefer that such talented musicians would have played a more adventurous and challenging music altogether, but each to his choices and the future will tell where does all this lead. In the meantime this album will surely find many satisfied listeners.
---