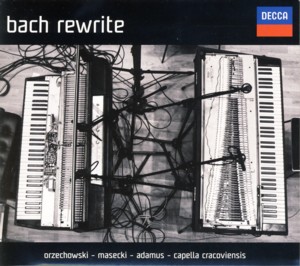 ORZECHOWSKI / MASECKI ~ BACH REWRITE
DECCA 602537545759 (Barcode: 602537545759) ~ POLAND ~ Jazz-Classical Fusion
Recorded: 2013
Released: 2013
---
This is definitely one of the most intriguing albums released in Poland in 2013; a completely cross-genre innovative project, which should interest a wide range of music connoisseurs. It combines the eternal music of Johann Sebastian Bach

Find albums by this artist

with two Polish enfants terribles: pianist / composer Piotr Orzechowski

Find albums by this artist

(a.k.a. Pianohooligan

Find albums by this artist

) and pianist / composer Marcin Masecki

Find albums by this artist

, usually associated with Avant-Garde Polish Jazz but also know to have flirted with Classical music, contemporary and otherwise. Orzechowski included a Bach prelude on his debut demo album in 2011 and then shook up the Polish music scene in 2012 with the album presenting his interpretations of the music by the celebrated Polish composer Krzysztof Penderecki

Find albums by this artist

. Masecki performed and recorded many times his interpretations of Classical music pieces earlier on and even recorded in 2012 a complete album covering Bach´s "Die Kunst Der Fuge". Therefore this meeting is not really as surprising, as it might appear at the first glance.

The pianists perform three Bach concerti for harpsichord, strings & continuo; each performs one concerto and together they perform a double concerto for two harpsichords. They are accompanied by the Capella Cracoviensis

Find albums by this artist

Orchestra conducted by Jan Tomasz Adamus

Find albums by this artist

, which specializes in performing early Classical music played on original instruments of the period. The "catch" is that rather than using the harpsichord as intended, Orzechowski uses the Fender Rhodes electric piano and Masecki uses the Wurlitzer electric piano.

Other than the effect of hearing an electric piano accompanied by a Baroque orchestra the album sounds pretty straightforward / "normal" and almost conventional. The big surprises are hidden almost at the very end of each of the concerti, when the pianists perform a "solo" / free improvised section, which of course is not a part of the original concerti (in the double concerto they perform this section together as a duo). This bold and innovative idea is what adds an extra "spark" to what this album offers to its listeners. There is of course also the a.m. disparity between the electric pianos and the orchestra, but after a while it simply vanishes and Bach´s music heals this gap quite naturally.

Both pianists and the orchestra perform their roles formidably and the overall effect is pleasing, but not overwhelming. The entire project turns out to be less innovative / challenging that one might expect. The short improvised passages are somewhat alien to the music at large and appear to be more "conceptual" than natural. The orchestra is absolutely perfect and the worm sound of the instruments is a true delight. The sound quality is acceptable, but not sensational. Summa summarum this is a pleasant, interesting album, which tries to bring Bach´s music into contemporary environment, which is always commendable. It is not, however, a major / revolutionary concept / achievement.

Side Note: The author of the liner notes accompanying this album keeps rumbling on and on about Wendy Carlos

Find albums by this artist

´ 1968 album "Switched-On Bach

Find albums with this title

", which was a first of its kind recording of Classical music performed on a Moog synthesizer. I completely fail to see any connection whatsoever between that album and the music included herein. Although innovative, "Switched-On Bach" was after all just a gimmick intended to sell records, which worked very well BTW. Any attempt to uplift its status to a significant masterpiece is simply ridiculous as it connecting it with this album.
---