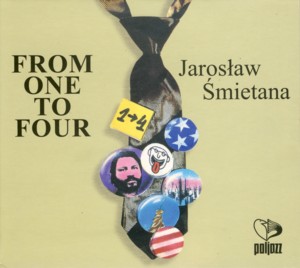 JAROSLAW SMIETANA ~ FROM ONE TO FOUR
POLJAZZ / ANEX 328 (Barcode: 5907513047834) ~ POLAND ~ Jazz
Recorded: 1986
Released: 2009
---
This is the second album as a leader by the fabulous Polish Jazz guitarist / composer Jaroslaw Smietana

Find albums by this artist

, who died recently tragically prematurely, succumbing to cruel illness. Smietana was one of the most active players on the local scene and contributed enormously to its development over the years. This album presents him, as the title suggests, in different settings: solo, duo, trio and quartet, playing with some of the best Polish Jazz musicians active at the time: saxophonists Janusz Muniak

Find albums by this artist

and Piotr Baron

Find albums by this artist

, bassists Krzysztof Scieranski

Find albums by this artist

and Antoni Debski

Find albums by this artist

and drummer Jacek Pelc

Find albums by this artist

. They perform eleven compositions, five of which are originals: three by Smietana and one each by Scieranski and Pelc, and the rest of the material is all standards.

This is one of the Jazziest albums recorded by Smietana, with fewer Fusion ventures, and his beautiful Jazz sensitivity is especially apparent herein. But all the other players also contribute very fine examples of intelligent, intimate musical conversations with the leader. Scieranski´s bass and Baron´s saxophone are simply delightful. Smietana experiments with the guitar synthesizers and performs on three quite distinctly sounding guitars, with his delicate touch being definitely one of the finest ever. Also the three duets with veteran saxophonist Janusz Muniak are among the album´s most enchanting moments.

In retrospect this is a very strong album from start to finish with no weak moments or unnecessary "fillers", and a superb legacy which Smietana left for all of us to enjoy. A must for all Polish Jazz fans!

Side Note: The Poljazz

Find albums on this label

label, which originally released this album, was active for 20 years (between 1972 and 1991) and was owned by the Polish Jazz Society. Considering the fact that the music industry in the Socialist State was centralized and totally controlled, with just one State owned music company producing all the albums, the possibilities to record and release Jazz albums were extremely limited. Poljazz was conceived and founded in order to allow for many more Jazz (and other) albums to be released independently from the State owned Polskie Nagrania

Find albums on this label

/ Muza

Find albums on this label

and as such revolutionized the music industry at the time, being the only such enterprise in Eastern Europe. The Polish label Anex

Find albums on this label

reissued many of the original Poljazz albums on CD, bringing this fabulous music back to life.
---