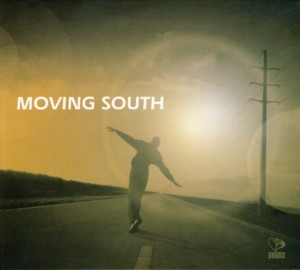 KAROLAK / URBANIAK / BARTKOWSKI ~ MOVING SOUTH
POLJAZZ / ANEX 314 (Barcode: 5907513047698) ~ POLAND ~ Jazz-Rock Fusion
Recorded: 1973
Released: 2009
---
This is the only album recorded by the fabulous Polish Jazz trio, comprising of keyboardist / composer Wojciech Karolak

Find albums by this artist

, violinist / saxophonist / composer Michal Urbaniak

Find albums by this artist

and legendary drummer Czeslaw Bartkowski

Find albums by this artist

. In many respects this is a companion album to the groundbreaking album by the Michal Urbaniak Constellation

Find albums by this artist

, which was released as part of the Polish Jazz series ("In Concert

Find albums with this title

", Vol.36) and recorded the same year as this album. Both Karolak and Bartkowski were members of Constellation and therefore it´s hardly surprising that stylistically the music is very similar.

The album includes five compositions (one is a three-part suite), four by Karolak and one by Urbaniak, which can be roughly categorized as Jazz-Rock Fusion, but they are so unique and eons ahead of their time that simplistic labeling is not doing them justice. This is truly visionary music, capturing all three musicians at the peak of their creative powers. Although Karolak composed most of the music on this album, Urbaniak´s concept of Fusion / Funk are the primary forces at work here. His use of electronics to enhance the sound of his violin is simply brilliant and completely innovative. Karolak plays also brilliantly, with his Hammond ripping the sound-space to shreds. Bartkowski is driving the music forward like mad, being the Jazziest element of the music, busy but not intrusive, with fantastic polyrhythmic feel and incredible technique.

In retrospect this is one of the most important Polish Fusion albums, which sadly remains mostly unknown even to the local fans and especially so abroad. This reissue creates another chance for this album to be re-discovered, and I recommend to all the Fusion diehard fans to start looking for this gem ASAP!

Side Note: The Poljazz

Find albums on this label

label, which originally released this album, was active for 20 years (between 1972 and 1991) and was owned by the Polish Jazz Society. Considering the fact that the music industry in the Socialist State was centralized and totally controlled, with just one State owned music company producing all the albums, the possibilities to record and release Jazz albums were extremely limited. Poljazz was conceived and founded in order to allow for many more Jazz (and other) albums to be released independently from the State owned Polskie Nagrania

Find albums on this label

/ Muza

Find albums on this label

and as such revolutionized the music industry at the time, being the only such enterprise in Eastern Europe. The Polish label Anex

Find albums on this label

reissued many of the original Poljazz albums on CD, bringing this fabulous music back to life.
---