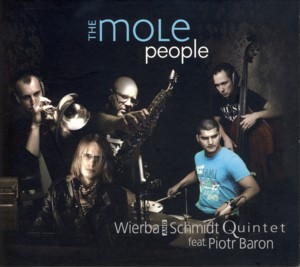 WIERBA / SCHMIDT QUINTET ~ THE MOLE PEOPLE
SJ 004 (Barcode: 5902596066017) ~ POLAND ~ Jazz
Recorded: 2011
Released: 2012
---
This is the fourth album by the Polish Jazz quintet, which was founded by two young players / composers: pianist Michal Wierba

Find albums by this artist

and trumpeter Piotr Schmidt

Find albums by this artist

. The quintet also includes bassist Michal Kapczuk

Find albums by this artist

and drummer Sebastian Kuchczynski

Find albums by this artist

. The fifth member of the quintet is a guest artist and in this case it the fabulous Polish saxophonist Piotr Baron

Find albums by this artist

. The quintet performs seven tunes, five of which are original compositions by Wierba, one by Schmidt and the remaining one is a Jimmy Rowles

Find albums by this artist

standard.

The music sits well within the comfortable boundaries of typical Jazz mainstream, moving vaguely between Bebop and Hard Bop. The original compositions are all quite solid, but overall unremarkable and lack an edge which could keep the listener focused for the duration of the music. The performances are also very good, but than again there´s nothing here that every Jazz fan never heard before. Baron, who obviously represents a completely different league, sadly contributes very little, as most of the music is performed without his direct involvement. The only moment when the music becomes truly inspired is when the beautiful standard is performed solo by the pianist.

To make things perfectly clear this is not a bad album; there are plenty of interesting moments and excellent solos (Baron´s solos in particular) but it is not enough to make it a remarkable album. In view of the music made by the very young Polish Jazz players, even younger than the ones on this album, constantly breathing on the neck of their slightly older colleagues, the level of competition requires everybody to try ever so harder. Life is a bitch.
---