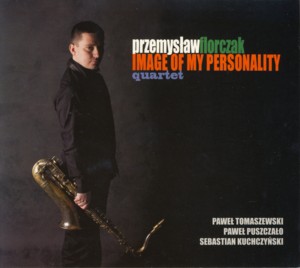 PRZEMYSLAW FLORCZAK ~ IMAGE OF MY PERSONALITY
SJ 003 (Barcode: 5902596066024) ~ POLAND ~ Jazz
Recorded: 2010
Released: 2012
---
This is the debut album by a young Polish Jazz saxophonist / composer Przemyslaw Florczak

Find albums by this artist

, recorded with his quartet which includes also organist Pawel Tomaszewski

Find albums by this artist

, bassist Pawel Puszczalo

Find albums by this artist

and drummer Sebastian Kuchczynski

Find albums by this artist

. The album presents seven tracks, six of which are original compositions, all by Florczak, and one is a Charles Mingus

Find albums by this artist

piece. Florczak is also a member of the excellent group Biotone

Find albums by this artist

.

The album is very impressive, especially as a debut, and presents a portrait of mature musicianship by the leader both as a performer and a composer. All the quartet members are excellent players, both as individuals and collective contributors. The decision to use the organ, rather than acoustic piano, turns this album into a completely unique experience, as this highly unusual combination opens a whole new world of sonic experience and wonderful unisono passages. The saxophone and the organ simply blend together fabulously and one wonders why they are not used together more often.

The compositions are also surprisingly excellent, well within the Jazz mainstream but incorporating many cross-genre elements, like bits of Funk, Bossa and even World-Music influences. Beautifully put together and intelligently arranged, they are a true pleasure to listen to. This music is fun (in the best meaning of the word) from start to finish, being both accessible to a wide range of listeners and sophisticated enough to draw the attention of the connoisseurs.

Florczak plays beautifully throughout, being especially impressive on the lyrical pieces, where his wonderful tone and delicate delivery is often breathtaking. Tomaszewski is also "stealing" a large part of the show with his superb organ lines, which bring on memories of times long gone. The rhythm section is simply perfect for the job, providing the vehicle for the two soloists to shine and keeping the wagon on the road.

The album has a surprisingly exquisite sound quality, which turns out to be less surprising after reading the bane of sound engineer Jan Smoczynski

Find albums by this artist

on the cover, who was in charge "only" of mix and mastering this time, but his signature is well recognized.

Overall this is a true gem, sadly somewhat overlooked on the crowded Polish Jazz scene, where albums are being released at an incredible rate, but definitely worth digging out and investigating. Well done indeed!
---