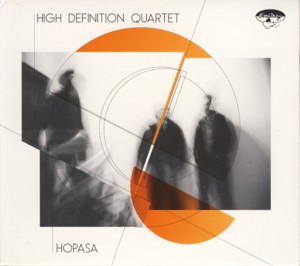 HIGH DEFINITION ~ HOPASA
EMARCY 602537434725 (Barcode: 602537434725) ~ POLAND ~ Jazz
Recorded: 2012
Released: 2013
---
This is the debut album by High Definition Quartet

Find albums by this artist

, a young Polish Jazz outfit comprising of saxophonist Mateusz Sliwa

Find albums by this artist

, pianist Piotr Orzechowski

Find albums by this artist

, bassist Alan Wykpisz

Find albums by this artist

and drummer Patryk Dobosz

Find albums by this artist

. Polish Jazz connoisseurs are of course familiar with Orzechowski (a.k.a. Pianohooligan

Find albums by this artist

), who made a meteoric entrance on the scene as a solo performer and recorded one of the most interesting Polish Jazz albums a year earlier, which presented his interpretations of music written by Maestro Krzysztof Penderecki

Find albums by this artist

. Here we have the occasion to hear him finally as a part of an ensemble, which of course is quite different than performing solo. Dobosz is also somewhat familiar as a member of the phenomenal Magnolia Acoustic Quartet

Find albums by this artist

, which released a brilliant live album shortly before this album was released. The quartet performs six pieces (well, five actually, as the first one is just a brief intro), four of which were composed by Orzechowski and one is a Wayne Shorter

Find albums by this artist

composition. The album offers a sublime sound quality and ambiance, which not surprisingly is a result of it being recorded at the Studio Tokarnia and engineered by Jan Smoczynski

Find albums by this artist

.

Musically High Definition is a quintessence of Modern Jazz in every respect. The musicians are all masters of their trade, which is absolutely amazing considering their tender ages, who perform with virtuosic sophistication, superb intelligence and brilliant feel; and yet these strong individuals are able to collaborate seamlessly to create a whole, which is stronger than the sum of its parts. The music they play is completely contemporary and yet it plays a loving tribute to all the traditional Jazz sub-genres, with humorous hints of Swing, Bebop, Hard Bop, Cool Jazz and of course Free Form, switching from one to another like a butterfly hopping from flower to flower. All that Magic is being performed completely effortless, elegantly and almost nonchalantly, which of course is a sign of true Artistry. They are able to switch tempi, keys and approach several times within a very short span of time, doing it in perfect harmony and unison, which is nothing short of stunning.

There is no doubt the Orzechowski is the most dominant personality behind this album, both as a composer and a player. This is not as much a question of solo exposure, but the overall feeling one gets listening to the music, with the piano chord obviously leading the way and stating (or emphasizing) the melodic content. There is absolutely nothing wrong with that of course, as Orzechowski is very charismatic and his musical personality is obviously very extrovert. On this album he is exposed, both as a composer and a player, showing his deep lyricism and even romanticism without any attempt to hide it behind false facades. Here it is, all in the open and in its full glory for us to enjoy.

Overall this is undoubtedly one of the strongest releases on the Polish Jazz scene this year, which is even more astounding as this has been a truly amazing year for Polish Jazz. And again, being a debut it is absolutely a miracle. Even more of a miracle is the fact, that it was released on a Major label, which usually releases less ambitious music. Perhaps even they can be converted? Heaven on earth!
---