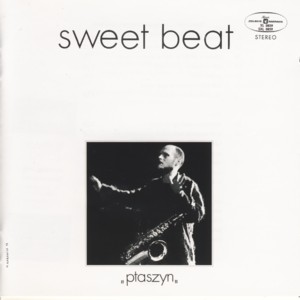 JAN PTASZYN WROBLEWSKI ~ SWEET BEAT
GAD 004 (Barcode: 5901549197037) ~ POLAND ~ Jazz
Recorded: 1972
Released: 2012
---
A couple of years after they collaborated on the first Polish Easy Jazz album ("Jej Portret

Find albums with this title

"), saxophonist / composer / arranger / bandleader Jan Ptaszyn Wroblewski

Find albums by this artist

and saxophonist / keyboardist / composer Wlodzimierz Nahorny

Find albums by this artist

meet again on this, another Easy Jazz recording, this time of the Jazz & Strings variety. This time however, Wroblewski is the primary soloist, fronting a wonderful quintet which includes Nahorny on keyboards, bassist Bronislaw Suchanek

Find albums by this artist

, drummer Janusz Stefanski

Find albums by this artist

and percussionist Jozef Gawrych

Find albums by this artist

. The quintet is accompanied by an expanded string section, conducted by Zygmunt Mahlik

Find albums by this artist

.

The album includes eleven original compositions, eight by Wroblewski and three by Jerzy Wasowski

Find albums by this artist

(a wonderful composer of cabaret songs). Wroblewski also wrote all the elaborate arrangements. Although, as intended, the orchestral arrangements are indeed Easy Jazz, the wonderful saxophone solos are anything, but easy, often being quite complex and even slightly Free Form, sometimes in complete contrast to the melodic background. However the overall atmosphere of this album is relaxed and focuses on delivering a musical experience, which can be enjoyed by a variety of listeners, including those who don´t listen to Jazz on a regular basis.

Regardless of the concept behind this music, it is very apparent that neither Wroblewski nor any of his colleagues take this project lightly and the level of execution is simply perfect, as are the compositions. Wonderfully melodic, yet far from being banal, these melodies stand the test of time marvelously and sound completely relevant also today. The overall project might sound a bit dated, but that is also its charm, rising waves of nostalgia for times long gone.

This superb reissue presents exceptional remastered sound quality and fourteen bonus tracks, previously unreleased, which demonstrate other collaborations between Wroblewski and the Polish Radio string ensemble between 1967 and 1971. Wroblewski composed all of these tracks, with the exception of one standard. These recordings are a wonderful window into the "behind the scenes" of the Polish Jazz scene at the time, where experimentation and individualism might have bees suppressed by State censorship, but never stopped the protagonist from trying.

Sadly neglected and almost forgotten over the years, this album truly deserves a second life and GAD Records, as usual, made the right decision to reissue it, making a splendid job as always. I love this stuff!
---