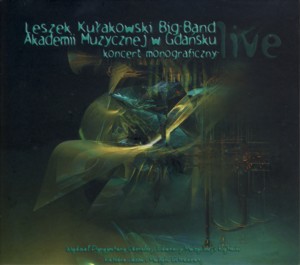 LESZEK KULAKOWSKI / BIG BAND ~ KONCERT MONOGRAFICZNY
NOT ON LABEL ~ POLAND ~ Jazz
Recorded: 2011
Released: 2012
---
This is a live recording by the Big Band comprised of students of the Music Academy in Gdansk, directed by the Polish pianist / composer / educator Leszek Kulakowski

Find albums by this artist

, who teaches at this Academy. He also plays piano on some of the tracks. The album includes ten original compositions, all by Kulakowski, who also wrote the arrangements (I assume so, as that is not explicitly mentioned on the album´s cover), four of which include vocals and the rest are instrumentals.

The Big Band is of course the pinnacle of Jazz and requires perfect discipline and vast experience to make it "click" at all, not to mention performing brilliantly. Therefore the fact that these kids are able to pull this off the way they do is truly amazing. Although obviously somewhat hesitant and far from clock-like perfection, the Big Bands performs the rather difficult and often complex music quite admirably, all things considered. Hats off to Leszek Kulakowski for undertaking such a challenging project.

But as usual with Kulakowski´s music, the charm is hidden in the music itself, which is simply superb. Additionally the unusual arrangements, which are completely different from what one expects to hear in a Big Band setting, are a complete surprise. Closer to contemporary Classical or perhaps Third Stream Music (which on second thought is not surprising at al in Kulakowski´s case) these arrangements are a beautiful example of what can be achieved with a Big Band. This is quite typical as far as European Big Bands are concerned, when the traditional American Big Band norms are rethought and refreshed, creating a new approach.

Although somewhat naïve and beautifully imperfect, this is overall a great piece of music, which deserves to be heard and is far from a "school souvenir" to the graduates. Strongly recommended to Big Band fans but anybody who likes slightly "twisted" Jazz is most welcome!
---