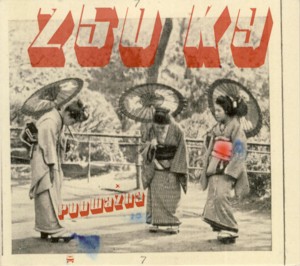 250 KG ~ PODWAZNA
NASZE NAGRANIA 003 ~ POLAND ~ Jazz
Recorded: 2012
Released: 2013
---
This is a debut recording by the Polish Avant-Garde / Free Jazz duo 250 KG

Find albums by this artist

, which comprises of saxophonist Tomasz Gadecki

Find albums by this artist

and guitarist Suavas Lewy

Find albums by this artist

. Gadecki is known to the followers of the Polish scene as half of the excellent Olbrzym I Kurdupel

Find albums by this artist

duo. The album includes seven improvised pieces, which as the duo members state in the liner notes, are based on "carefully prepared compositional assumptions", which is a typical example of irony associated with the Polish Avant Garde, mixed with a grain of truth. And again, quoting the a.m. liner notes, any attempt to describe the music any further is simply futile and contradicts the very essence of this music, which is supposed to be listened to without any preconceptions.

Improvised Music is by its very nature extremely personal and does not often cross the bridge spanning between the improvisers and their audience, regardless of everybody´s best intentions. Strangely, this music, which is as improvised as improvised music gets, is also very communicative, which is truly extraordinary. I enjoyed the conversations between the duo members from the moment the music started and hardly even noticed the time moving on, with the album being over much too soon.

Gadecki and Suavas definitely seem to be on the same wavelength, intertwined within the music and bonding constantly, which after all is the essence of collective improvisation. Sonically the tone and timbre of both players is mellow and pleasant, in complete comparison to the usual Avant-Garde harshness and aggression. I´d even go as far as suggesting that this music would be listenable even to audiences beyond the inner circle of the Improvised Music hard core.

So here we have one more example of the creativity and constant development of the Avant-Garde / Free Jazz / Improvised Music scene in Poland, which seems to have no borders or limits and keeps astounding its followers the world over. Such quality and imagination are seeds of hope that the world and its Culture are not yet doomed, after all.

I´d recommend to other musicians belonging to the same musical sphere to listen to this album and learn from it how to be creative and not alienate your public at the same time. At least for me this one is an instant classic of the genre.
---