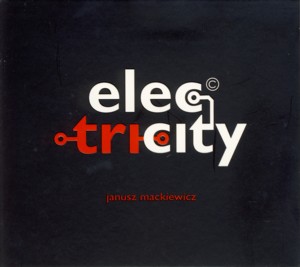 ELEC-TRI-CITY ~ ELEC-TRI-CITY
BITTT 002 (Barcode: 5907632690072) ~ POLAND ~ Jazz-Rock Fusion
Recorded: 2013
Released: 2013
---
This is the debut album by Polish Jazz-Rock / Funk ensemble Elec-Tri-City

Find albums by this artist

, formed by bassist Janusz Mackiewicz

Find albums by this artist

and including also the excellent veteran vibraphonist Dominik Bukowski

Find albums by this artist

, guitarist Marcin Wadolowski

Find albums by this artist

and drummer Grzegorz Sycz

Find albums by this artist

. As the word-play title suggests, the band members originate from the country´s Tricity on the Baltic Sea. Several guest musicians participate on the album, most notably the keyboards wizard Leszek Mozdzer

Find albums by this artist

. The album includes seven original compositions all by Mackiewicz.

The music lies well within the boundaries of the Jazz-Rock Fusion / Funk variety, but presents an up to date version of the idiom and even tries to expand its boundaries by adding somewhat more electronic ambience and more advanced harmonic structures as well as more ambitious improvisations than usually utilized by musicians operating within these genres. The compositions are surely better than most sketchy melodic lines usually used in Funk over a repetitious rhythmic pattern. In short this music is a breath of fresh air as far as Funk & Co are concerned.

The individual contributions are all beyond reproach, which is not surprising considering the obvious abilities of the musicians involved. Mackiewicz plays some pretty "nasty" bass lines, which can wake up the dead, Bukowski and his xylosynth (xylophone-synthesizer) produces superb atmospheric sonic layers and inspired solos, Wadolowski adds a gutsy, Bluesy guitar sound and Sycz keeps the entire shamadan moving forward straight to the listeners guts (or heart). Even Mozdzer plays here considerably more imaginatively than on his solo albums lately.

Overall this is an excellent album as far as Funk is concerned, elegant and entertaining and above all great fun. I enjoyed every minute of this music, which is definitely more suitable for warm climates. Thank you guys for bringing some joy to life!
---