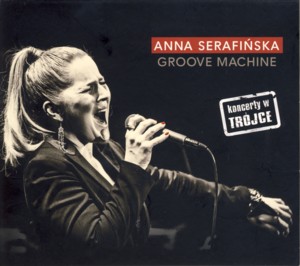 ANNA SERAFINSKA ~ GROOVE MACHINE
POLSKIE RADIO 1662 (Barcode: 5907812246624) ~ POLAND ~ Jazz-Rock Fusion
Recorded: 2013
Released: 2013
---
This is a live radio recording by veteran Polish Jazz vocalist / songwriter / educator Anna Serafinska

Find albums by this artist

with her group called Groove Machine

Find albums by this artist

, which consists of mostly younger musicians: keyboardist Rafal Stepien

Find albums by this artist

, guitarist Andrzej Gondek

Find albums by this artist

, bassist Michal Baranski

Find albums by this artist

and drummer Cezary Konrad

Find albums by this artist

. The group also includes a couple of female backing vocalists. The album includes ten pieces, nine of which are originals on which Serafinska contributed the music or the lyrics or both and only one is a standard.

The group´s name conveys exactly its musical direction, which is Funk, Soul-Jazz and Groove, without exception. Although marginally Jazzy, this music is quite excellent at what it stands for and does not fall behind similar efforts recorded anywhere else in the world, US included. The band plays with a superb feel and groove, as expected, driven by the excellent rhythm section of brilliant Baranski and veteran Konrad, who never fails regardless the musical environment. Keyboards and guitar, which provide the melodic content as well as atmospheric ornamentation, are also spotless and inspired. The tasty hints of ambient and electronic sounds by the keyboardists bring the overall sound up to date sounding completely contemporary.

Serafinska, who sings in Polish and English, does a good job, obviously technically proficient and with a lot of feeling and understanding for this kind of music. However, her voice lacks any distinctive elements and is simply unremarkable. But the lack of luster is definitely a minor drawback and overall she really does an excellent job here both as a performer and composer / lyricist.

This is what it is – good time music, which manages however to preserve musical quality, aesthetics and integrity. With excellent sound quality and truly entertaining contents this is definitely worth listening to, especially while driving a convertible on a see-side road. Groovy indeed!
---