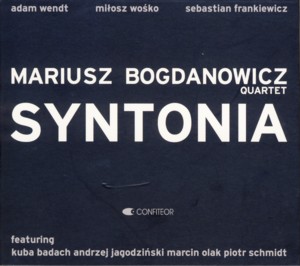 MARIUSZ BOGDANOWICZ ~ SYNTONIA
CONFITEOR 007 (Barcode: 5902020591047) ~ POLAND ~ Jazz
Recorded: 2012
Released: 2013
---
This is the third album by veteran Polish Jazz bassist / composer Mariusz Bogdanowicz

Find albums by this artist

, recorded with his quartet which also includes saxophonist Adam Wendt

Find albums by this artist

, pianist Milosz Wosko

Find albums by this artist

and drummer Sebastian Frankiewicz

Find albums by this artist

. Several guest musicians participate on selected tracks. The album comprises of nine original compositions, all by Bogdanowicz, eight of which are instrumentals and one features vocals.

The music is typical modern Polish Jazz mainstream, with beautiful melancholic melodies, lyrical moods and almost Scandinavian gloominess in the air. All the performances are excellent technically and proficiently executed, with some brilliant moments, especially when trumpeter Piotr Schmidt

Find albums by this artist

joins the ensemble and the overall atmosphere becomes somewhat less constrained. The compositions are all quite gorgeous and sometimes it seems that they could have served as a basis for a much more adventurous approach. Bogdanowicz plays delightfully from start to finish and his partners all deserve applause.

It is almost impossible to say anything negative about this album; it is after all a superb mainstream recording by any criteria. Many Jazz lovers, especially Americans (if this album was to reach the US market – which it won´t) would simply love it to bits. However, as good as it is, it does not break any conventional barriers and contributes very little to the development of the genre. But who says every album has to do so?

So here we have a very pleasant mainstream album, well played and excellently recorded and full of good music, lacking only a bit of the audacious spark. Perhaps next time?
---