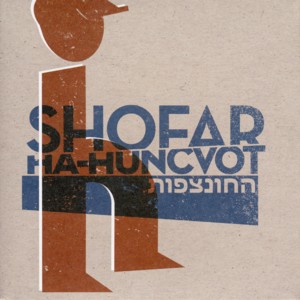 SHOFAR ~ HA-HUNCVOT
KILOGRAM 026 (Barcode: 5907577284244) ~ POLAND ~ Jazz-Rock-World Fusion
Recorded: 2009
Released: 2013
---
The Polish ensemble Shofar

Find albums by this artist

, founded by guitarist Raphael Roginski

Find albums by this artist

, who also leads the excellent ensemble Cukunft

Find albums by this artist

, is a trio which also includes the iconic saxophonist / clarinetist Mikolaj Trzaska

Find albums by this artist

and drummer Macio Moretti

Find albums by this artist

. This is their second album, which consists of eleven pieces, eight of which are original compositions co-credited to the trio and three are their unique interpretations of traditional Hasidic melodies.

The album was recorded a couple of years following their debut, but was actually released only four years later. Musically it is a logical development of the approach established on the debut, which mixes pre-composed themes and improvisations, with strong influences originating in Eastern European Jewish music. Together with Cukunft and quite a few other ensembles the New Jewish Music emerges as one of the most interesting musical development on the Polish scene.

Shofar creates a very distinct sound, with the electric guitar sounding seemingly in conflict with the delicate clarinet, but strangely they somehow complete each other, and together with the percussive ornamentation create a wonderful amalgam, which proposes a new aesthetic. The various pieces represent many different moods, like anger, aggression, despair, peace, love and meditation, always playing just what is necessary and avoiding any meaningless excess. Overall the music is deeply engaging and has a direct impact, regardless if the listener has any Jewish roots or not. This is the real strength of this music.

There are, of course, also the individual talents of these musicians to be considered, in addition to their group performances, which deserve the listener´s attention. Roginski, deeply rooted in rocky riffs, expands his vocabulary with ambient accompaniments and wall-of-sound strumming in the most intense moments. Trzaska, relatively restrained, sounds wonderfully mellow and melodic, but underneath his volcanic explosions simply wait for an opportunity to erupt. Moretti keeps a relatively low profile, although his contributions are quite essential to keep the entire creation together and are all performed with great fluency and confidence.

This music is truly beyond category and has little parallels in Poland or in the entire world for that matter. Although firmly clinging to the Improvised Music formulas, this music has a "soul" ("neshume" in Yiddish), which is simply absent in most improvised environments. This is perhaps New Jewish Music, but it also is a bridge between the past and the future in all musical areas for people who are willing to listen.
---