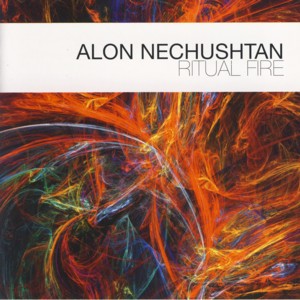 ALON NECHUSHTAN ~ RITUAL FIRE
BETWEEN THE LINES 71234 (Barcode: 608917123425) ~ ISRAEL ~ Jazz
Recorded: 2011
Released: 2013
---
This is a strikingly beautiful album by Israeli (living in NY) pianist / composer Alon Nechushtan

Find albums by this artist

with a quartet which also includes the bassist Ken Filiano

Find albums by this artist

, drummer Bob Meyer

Find albums by this artist

and the legendary Israeli clarinetist Harold Rubin

Find albums by this artist

. The quartet performs ten pieces that are mostly freely improvised, based on compositional guidelines by Nechushtan, which together constitute an "action" suite, a term describing an artistic on-the-fly creation. This is Nechushtan´s fourth consecutive exceptional album in a span of just a few years, firmly establishing him as a major player of the contemporary Jazz / Improvised Music scene.

Although released under Nechushtan´s name, the album is primarily a remarkable tribute to the exceptional abilities of Rubin, who was almost eighty years old when this music was recorded. Although still relatively little acknowledged on the international music scene, Rubin is a force of Nature, with absolutely no competition anywhere in the world. His playing, or rather creation of sounds, is completely unique and transcends the Jazz tradition by light-years. Wonderfully he is getting better with time and the advanced age seems to bless him with ageless vitality and musical astuteness. Nechushtan is to be congratulated for recognizing Rubin´s contribution and keeping the rhythm section relatively in the background, mostly supporting Rubin´s soloing.

But of course the rhythm section plays all along and they play wonderfully. These are all experienced and very talented players, who all have recognized recorded legacies to their names, and therefore don´t need to prove anything by taking more of the personal space that the opportunity called for. Again they all deserve to be praised for their attitude.

The music is typically spontaneous and limitless, creating an aesthetic aura of elegance, beauty and artistic "fire", which should win over every open-minded listener. This is true "high art", which should be celebrated and revered, as it is rare and fragile.
---