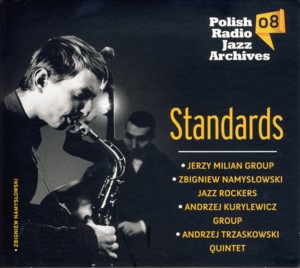 VARIOUS ARTISTS ~ POLISH RADIO JAZZ ARCHIVES VOL.08
POLSKIE RADIO 1627 (Barcode: 5907812246273) ~ POLAND ~ Jazz
Recorded: 1961
- 1962
Released: 2013
---
This is the eighth installment in the new series of releases initiated by the Polish Radio, which presents archive Jazz recordings. Radio recordings are always a fabulous source of remarkable material, and as far as Polish Jazz history is concerned, the Polish Radio, which was a state monopoly for 45 years, recorded over time a plethora of invaluable material, which apart from the albums released by the Polskie Nagrania record company (also a state monopoly), is the only additional source of Polish Jazz recordings. For many years Polish Radio recorded concerts presented during Poland´s most important Jazz venue, the annual Jazz Jamboree Festival and many other festivals as well.

The material collected here presents recordings made during 1961 and 1962 by the top Polish Jazz musicians active at the time, exhibiting a wonderful panorama of the local scene at the time. All the thirteen tracks are Jazz standards performed by Jazz musicians all over the world and therefore the album is a superb opportunity to compare the level of musicianship of the first post WWII generation of Polish Jazz to their American and European counterparts. Listening to the album immediately shows that technically these players were as gifted and skilled as any other Jazz performers at the time, despite the disadvantage of living and playing behind the Iron Curtain and being almost completely isolated from the current developments. Stylistically Polish Jazz at the time was still very much under the American mainstream influence, and although Free Jazz was already making a rapid progress and breaking all the established boundaries in the US, it would take a few years until it bloomed in Poland as well.

The material was recorded by four iconic figures of the early Polish Jazz and their respective ensembles: pianist / composer Andrzej Trzaskowski

Find albums by this artist

and his quintet, saxophonist / composer Zbigniew Namyslowski

Find albums by this artist

and his quintet called Jazz Rockers

Find albums by this artist

, vibraphonist / composer Jerzy Milian

Find albums by this artist

and his quintet and trumpeter / composer Andrzej Kurylewicz

Find albums by this artist

and his group. The most renowned sidemen include saxophonist Michal Urbaniak

Find albums by this artist

, pianist Wojciech Karolak

Find albums by this artist

, bassist Roman Dylag

Find albums by this artist

and many others.

The performances are all excellent and their invaluable historical significance is beyond reproach. Beautifully restored sound quality and a warm ambience of the analog recording is a true joy.

As usual with this series, which is very reasonably priced, I miss the presence of "in depth" liner notes / booklet, which should convey the circumstances at which this music was recorded and its importance to the development of Polish Jazz. Nevertheless this is an essential piece of history which every European Jazz fan will surely consider an absolute must.
---