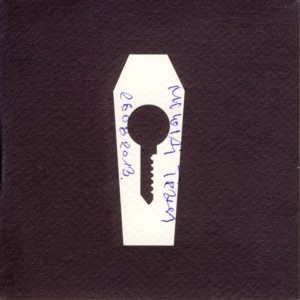 MIKOLAJ TRZASKA ~ DOM ZLY (SOUNDTRACK)
KILOGRAM 018 (Barcode: 5907577284169) ~ POLAND ~ Soundtracks
Recorded: 2009
Released: 2010
---
Polish musician / composer Mikolaj Trzaska

Find albums by this artist

is an iconic figure on the local scene and one of the most influential trend setters in the last two decades. Starting with the pioneering ensemble Milosc

Find albums by this artist

, which defined the concept / genre called Yass, shaking the local scene profoundly and making many musician to re-examine their paths and return to experimentation and exploration, which was always associated with the Jazz idiom. In time Trzaska became one of the leaders of the Polish musical Avant-Garde / Free Jazz / Improvised Music movement and by mid-2000s he shifted his attention again discovering the Jewish musical tradition and incorporating it in his milieu.

The music included on this album was created as a soundtrack of the sinister thriller directed by Wojciech Smarzowski

Find albums by this artist

and called "Dom Zly" or "The Dark House" in English. Therefore listening to the music separated from its cinematic reference is a priori problematic or at least should be judged by completely different set of parameters. The album includes ten tracks most of which are sub-divided into several sub-motifs, which together create a collage of short themes following each other rapidly. The music was created by a quintet with Trzaska playing saxophones, clarinets and keyboards, with cellist Clementine Gasser

Find albums by this artist

, pianist Tomasz Szwelnik

Find albums by this artist

, bassist Clayton Thomas

Find albums by this artist

and drummer Michael Zerang

Find albums by this artist

. Not all the players participate on all the tracks and Trzaska is the primary performer as well as the composer of all the pieces.

Stylistically the album covers a wide range of diverse sub-genres, like Musique concrète, Ambient, Free Jazz, Experimental, Industrial and other Avant-Garde soundscapes. There is very little melodic content per se or conventional soloing or playing for that matter. Like with abstract painting, where the Artists uses patches of shapes and colors combining them on a canvas and playing with their aesthetic relationships on a two-dimensional plane, Trzaska plays with sounds and tones and time, to create a sonic "picture" in the listener´s brain, which either works of doesn´t, depending on the listener, his momentarily moods and reflections. It works for me, but it might not work for others.

This music is obviously not for everybody, not even for most people who listen to music on a regular basis. Many listeners might enjoy this as part of a cinematic experience, heard in the background, but might find this extremely difficult on its own. This does not mean, of course, that Trzaska is not entitled to experiment and do his own thing – au contraire he should be praised for doing just that. A healthy Culture has always space for being different and the ability to embrace those who are different. Life would be simply unbearable if everybody would just play the same music.
---