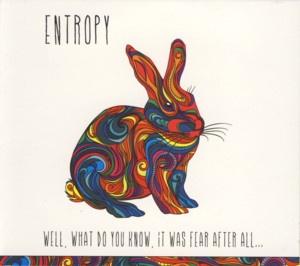 ENTROPY ~ WELL, WHAT DO YOU KNOW, IT WAS FEAR AFTER ALL…
NOT ON LABEL (Barcode: 5707471030066) ~ DENMARK ~ Jazz-Rock Fusion
Recorded: 2012
Released: 2013
---
This is the debut album by the young Danish / Polish Jazz-Rock Fusion quartet Entropy

Find albums by this artist

, one of the numerous ensembles formed by students at the Academy of Music in Odense, Denmark. Many Polish students choose to attend the Odense school as it is quite close to Poland and much more affordable than for example Berklee Collage of Music in Boston. Entropy comprises of three Danish musicians: saxophonist Andreas Moller Bottiger

Find albums by this artist

, guitarist Buster Jensen

Find albums by this artist

and bassist Martin Buhl

Find albums by this artist

, and one Polish musician: drummer Radek Wosko

Find albums by this artist

. The album includes nine original compositions, four by Jensen, three by Wosko and two by Bottiger.

The music is pretty conventional, with well defined structures, melodic statements and improvisations, all neatly put together and without any major surprises or unexpected twists. The overall atmosphere is quite melancholic and some of the compositions move at a very slow paste and with little intrinsic dynamics. The personal statements by the musicians are also quite restricted, lacking any signs of virtuosity or exceptional abilities, except for the drummer, who displays a clearly defined personal style and manages to keep the music flowing, as well as provides the best compositions on the album. Nevertheless, the album has its moments and altogether is quite listenable, but lacks the sparkle and magic, which so many albums by young musicians are blessed with these days.

Perhaps these young musicians need to play together a bit longer and clarify the musical direction before embarking on a next recording project. I´m sure they can do better next time.
---