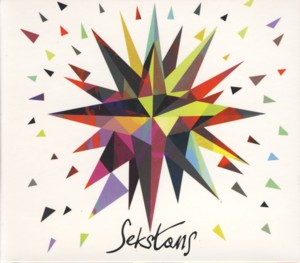 SEKSTANS ~ SEKSTANS
MULTIKULTI 010 (Barcode: 5907529223376) ~ POLAND ~ Jazz
Recorded: 2011
Released: 2013
---
This is an excellent debut album by the young Polish Jazz sextet called Sekstant

Find albums by this artist

and originating form the Baltic Tricity, founded and led by saxophonists Lukasz Juzko

Find albums by this artist

and including saxophonist Piotr Checki

Find albums by this artist

, trumpeter Dawid Lipka

Find albums by this artist

, pianist Szymon Burnos

Find albums by this artist

, bassist Maciej Sadowski

Find albums by this artist

and drummer Tomasz Koper

Find albums by this artist

. The album comprises of seven original compositions, two of which (the opening and closing tracks) are improvised pieces, three are composed by Juzko and one each by Sadowski and Koper.

As usual with the young Polish Jazz ensembles the music crosses all possible boundaries and is almost impossible to be neatly categorized. On top of the obvious Jazz tradition there are traces of Rock and even Punk (especially in the somewhat hassle-free attitude), Free Jazz and even Improvised Music excursions and many other elements, which of course make this music fascinating and unpredictable. The usage of electric piano and the brass arrangement on certain pieces take the ensemble close to Jazz-Rock Fusion, but then electronics and Ambient elements remind the listener that this is 21st Century and music is constantly changing and expanding its idioms. Underlying these stylistic explorations, the compositions present solid melodic themes, which are all quite impressive.

Both the individual abilities of these players and their collective cooperation are very impressive. As usual it´s hard to believe that these are such young players only starting their musical life´s journey. The open-mindedness and personal courage to explore non-trivial music and eschew mediocrity are truly admirable.

I eagerly anticipate the next step on this ensemble´s path, which in view of this promising debut could be even more thrilling. In the meantime this is a true little gem, which should give Jazz connoisseurs a most pleasurable listening experience. Well done!
---