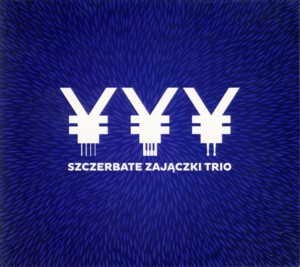 SZCZERBATE ZAJACZKI TRIO ~ SZCZERBATE ZAJACZKI TRIO
NOT ON LABEL ~ POLAND ~ Jazz
Recorded: 2013
Released: 2013
---
This is the debut album by Szczerbate Zajaczki Trio

Find albums by this artist

, a Polish Jazz piano trio from the city of Torun. It consists of three young musicians: pianist Bartek Staszkiewicz

Find albums by this artist

, bassist Robert Rychlicki-Gasowski

Find albums by this artist

and drummer Wojciech Zadruzynski

Find albums by this artist

. The album comprises of eight compositions, two of which are standards and the remaining six are original compositions by the pianist or by the entire trio.

The piano trio is of course a most demanding format and therefore any recording by young musicians just entering the world of music is unfortunately often compared to the masterpieces of that format, which is hardly fair. In Poland, which has many fabulous pianists and extraordinary piano trios, the competition on the local scene is even tougher. Therefore one must try and listen to this introductory effort with an open mind and proper proportions.

There is no doubt that these musicians have a lot of potential and talent, both as players and as composers. The original music presented here is all quite interesting and well formed, being the strongest advantage of this album. Mostly low-key, it displays the typical Polish Jazz melancholy and Folklore roots, which are deeply implanted in most Polish composers. The actual instrumental and improvisational qualities of these young players are yet to be fully developed and sound a bit naïve at times, but definitely nothing they should be ashamed of. It is simply a matter of experience, both technically and mentally, until a musician is able to express himself at his full capacity.

Overall it is definitely a worthy debut, which is a pleasant listening experience, and which hopefully will be followed soon by a much more mature musical project, which I look forward to hearing.
---