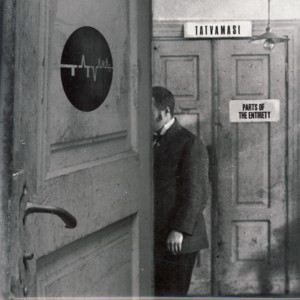 TATVAMASI ~ PARTS OF THE ENTIRETY
CUNEIFORM 371 ~ POLAND ~ Jazz-Rock-World Fusion
Recorded: 2013
Released: 2013
---
This is the debut album by Polish quartet Tatvamasi

Find albums by this artist

, led by guitarist Grzegorz Lesiak

Find albums by this artist

, which also includes saxophonist Tomasz Piatek

Find albums by this artist

, bassist Lukasz Downar

Find albums by this artist

and drummer Krzysztof Redas

Find albums by this artist

. The album comprises of seven original instrumental pieces, all composed by the leader and was released by the prestigious US Cuneiform

Find albums on this label

label, one of the world´s leading labels specializing in new cross-genre music, with an impressive catalogue of releases. This makes Tatvamasi one of the very few young Polish groups to earn international attention already with their debut album, which is quite impressive.

Although the leader´s background and personal history spin a fascinating tale, the listener should judge the music as it presents itself herein. A cross-genre creation indeed, this music escapes classification and easy categorization, which is actually quite a common phenomenon, especially among the young Polish ensembles, which surprisingly pop up on the local scene with astounding vitality and incredible talent. Tatvamasi are no different and again it´s almost impossible to believe that this is a debut recording and a work of such young artists.

The music shows traces of what started many decades ago as British Jazz-Rock Fusion, amalgamating Jazzy improvisation and Rocky rhythmic patterns. Of course this music is as contemporary as it gets, standing firmly within today´s music as far as the overall ambience and dynamics are concerned, paying respectful tribute to its origins. But beyond Jazz–Rock there are plenty of other influences present, often very diverse from each other, like Punk, World Music, Ambient, Minimalism and of course Free Jazz and Improvised Music. Considering the fact that this music was recorded practically live in the studio with no overdubs and other studio wizardry, what we hear is what happened, with the creative flow being captured on the fly.

The personal contributions by the four musicians are all commendable; the leader weaves some truly beautiful melody lines and memorable riffs; the saxophonists manages to float high above during his improvisations and the rhythm section keeps the often difficult music in check, driving the dynamics and leading the way securely through the many twists and turns.

The album is a breeze of fresh air and a great fun to listen to. The diversity of the pieces, which are mostly quite extensive, keep the listener on his toes at all times. There is so much happening here that several listening sessions are necessary to really "get" this music at its full bloom. Of course listeners used to improvised music will be able to appreciate this music instantly.

This is a most impressive debut release, promising interesting future and establishing once more the Polish scene as one of the leading sources of new and fascinating music. Very well done indeed!
---