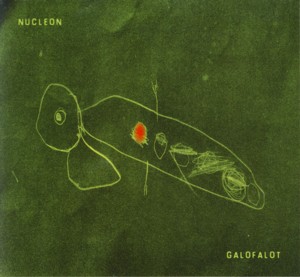 NUCLEON ~ GALOFALOT
NOT ON LABEL ~ POLAND ~ Jazz
Recorded: 2012
Released: 2013
---
This is the third album by Polish Avant-Garde Jazz group Nucleon

Find albums by this artist

, which consists of saxophonist Aleksander Papierz

Find albums by this artist

, guitarist Michal Dymny

Find albums by this artist

, electronics man Tomasz Gluc

Find albums by this artist

and drummer Jakub Rutkowski

Find albums by this artist

. Two guest musicians: trombonist Bronislaw Duzy

Find albums by this artist

and Marcin Gagola

Find albums by this artist

who uses FX (whatever special effects that means) also make an appearance. Their music is an amalgam of Jazz, Improvised Music, Rock, Ambient and Electronics, which somehow manages to sound sane and even make perfect sense.

The album includes ten original compositions, which are mostly credited to the entire ensemble. Although the music is obviously rather free and spontaneous, there is enough melodic content and rhythmic sanity, which make it fairly effortless to listen to, albeit perhaps not by less experienced music connoisseurs. This kind of musical creation is all about group improvisation and close cooperation between the musicians, which are splendidly achieved herein. As a result there are a few solos per se and most of the music is worked out between the collective performances. And yet there is melody, stated mostly by the saxophone, harmony and clear rhythmic patterns, which are easy to follow. Paradoxically this truly "strange" music is simply "nice" and pleasant.

Nucleon is just one of many superb Improvised Music / Avant-Garde ensembles active currently in Poland, and they certainly represent the renaissance of musical inventiveness, similar to what happened (on a different musical plane) to the early Polish Jazz after WWII. This phenomenon is heartwarming, especially at a time when Culture and Art are on the defense and retreat most of the time.

This album requires several listening sessions in order to really get into it, but it only gets better each time it´s played, so the process is really a pleasant experience. I had tremendous fun getting to know this album and enjoyed every minute of it. This is "weird" music in the best meaning of the term and wholeheartedly recommended to every serious music lover. Brace yourself for a ride!
---