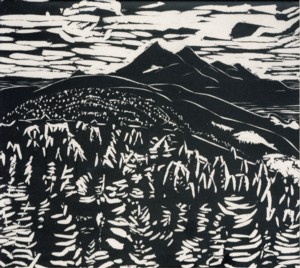 INNERCITY ENSEMBLE ~ KATAHDIN
WET MUSIC 04 (Barcode: 5904259353915) ~ POLAND ~ Jazz-World Fusion
Recorded: 2011
Released: 2012
---
The Polish Innercity Ensemble

Find albums by this artist

is one of many experimental music groups, which pop up on the local scene like mushrooms after rain. The incredible beehive of frenzy activity, which encompasses the Polish improvisational music scene is a phenomenon of truly gigantic proportions, and most surprisingly unparalleled by any other country in the world. As usual in such a case, the quality of the music varies significantly, but the exploration and sense of urgency prevail universally. The group is a septet and the musicians come from several different Jazz, Rock and Ambient groups. The most dominant musician is trumpeter Wojciech Jachna

Find albums by this artist

, who is a member of the excellent Sing Sing Penelope

Find albums by this artist

. Not surprisingly, for those familiar with the Polish Avant-Garde scene, the album was recorded at the Mozg Club in Bydgoszcz, one of the epicenters of the improvisational activity.

In addition to Jachna, whose trumpet is the leading voice of the album, the ensemble includes also two guitar players, three percussionists and one person using electronic devices. This unusual lineup dictates the overall musical direction of the proceedings, which basically features ambient and percussive background, with trumpet solos on top. There is limited melodic content and the music develops slowly, if at all, like in a meditative trance. The trumpet solos are, in contrast, quite spectacular.

Although potentially interesting the album somehow leaves me cold, except for the trumpet solos. Lovers of Ambient and perhaps World Music originating in Far East will probably enjoy this music, others might enter the meditative mood and float with it, but for me this music simply does not go anywhere. Nevertheless I appreciate the energy and effort that went into making this album.
---