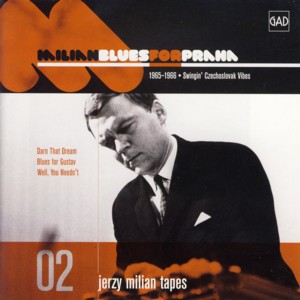 JERZY MILIAN ~ BLUES FOR PRAHA
GAD 007 (Barcode: 5901549197068) ~ POLAND ~ Jazz
Recorded: 1965
- 1966
Released: 2013
---
The Polish GAD

Find albums on this label

Records label has become a treasure chest of archival recordings by Polish Jazz and Rock artists and in the short period of time since 2010, when the label released its first album, it established its position on the market as a dedicated and reliable source of interesting material. This album follows the already established pattern and is the second volume of archival material by legendary Polish Jazz vibraphonist / composer Jerzy Milian

Find albums by this artist

, one of the forefathers of modern Polish Jazz.

The material collected here was recorded in former Czechoslovakia, Poland´s southern neighbor, which had a wonderful Jazz scene as well at the time these recordings were made, i.e. mid-1960s. For many reasons, which fall far beyond the scope of a record review, the cooperation between these two scenes was rather limited, and therefore this album is especially important, as it documents a little known chapter of Eastern European Jazz. Milian established collaboration with Gustav Brom

Find albums by this artist

, the founder and leader of the legendary Gustav Brom Orchestra

Find albums by this artist

, which was one of the best Jazz Big Bands in Europe at the time. He performed and recorded with the orchestra several times until the brutal Warsaw Pact invasion of Czechoslovakia in 1968, which put an end to the Prague Spring.

The material collected here presents four studio tracks recorded by the Czech radio and three live tracks recorded a few months later. Two tracks are Milian originals and one was composed by the Gustav Brom Orchestra´s bassist Milan Rezabek

Find albums by this artist

. The remaining four tracks are standards. The American trumpeter Ted Curson

Find albums by this artist

, who often visited Eastern Europe and recorded in Poland as well, solos along Milian on one track. All tracks feature extended solos by Milian and are a wonderful testimony to his virtuosic abilities. The orchestra also performs quite splendidly of course, even in the trickiest moments. The music is nor terribly innovative, moving within the established boundaries of Bee Bop and Cool, but is definitely well played. Overall this is yet another glace at the Polish Jazz history, which of course deserves to be remembered.

With remastered and restored sound and informative booklet (including text in English), this album is definitely worth checking out by any connoisseur of European Jazz, looking for another perspective.
---