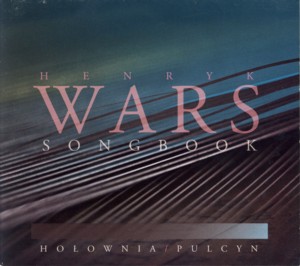 BOGDAN HOLOWNIA / WOJCIECH PULCYN ~ HENRYK WARS SONGBOOK
HOBO 009 (Barcode: 5907527959093) ~ POLAND ~ Jazz
Recorded: 2013
Released: 2013
---
The great Polish (of Jewish origin) composer Henryk Wars

Find albums by this artist

(a.k.a. Henryk Warszawski

Find albums by this artist

) was one of the most important music personalities of the interwar Polish music scene. He wrote music for many Polish films made during that period and composed countless popular songs, which were performed by the top Polish singers. He was also the musical director of the first Polish record company Syrena Rekord

Find albums on this label

, which produced many thousands of recordings during the period. In addition he also wrote several Classical compositions and was one of Poland´s Jazz pioneers. Wars survived the WWII as a member of the Polish Army and after being demobilized in 1947 he emigrated to the USA, where he continued his music career, mostly as cinematic composer and songwriter until his death in 1977.

Polish Jazz musicians: pianist Bogdan Holownia

Find albums by this artist

and bassist Wojciech Pulcyn

Find albums by this artist

present a selection of nine evergreens composed by Wars, with words by the best lyricists of the time, including the sublime poet Julian Tuwim

Find albums by this artist

, which during the interwar period were smash hits on the local scene. In an intimate duo format and stripped from the lyrics, these performances emphasize the melodic sensitivities of the composer, which undoubtedly stand up to all other popular music composers of that period, who produced the inexhaustible source of musical gems, called "standards" in Jazz.

The performances by the duo are all kept in a low key and the improvisation is kept to a minimum, concentrating on the delivery of the melodic contents. Therefore as a Jazz album it is relatively limited, but as an important document of the Polish popular music history and a tribute to the great composer it´s invaluable. The album will surely bring on some nostalgic moments from the older generation of listeners (sadly almost gone) and its primary role is to introduce this wonderful music to the younger generation, which should not forget the tradition, which is so full of musical treasures. Definitely worth investigation!

The album was recorded at the excellent Studio Tokarnia and engineered by Jan Smoczynski

Find albums by this artist

, which of course means that the sound quality is super as always in such case.
---