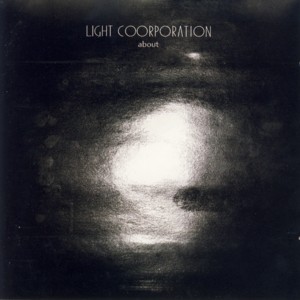 LIGHT COORPORATION ~ ABOUT
RER LC03 ~ POLAND ~ Progressive Rock
Recorded: 2013
Released: 2013
---
This is the third (in three years) album by Polish Progressive Rock / Jazz-Rock Fusion ensemble Light Coorporation

Find albums by this artist

, founded and led by guitarist / composer Mariusz Sobanski

Find albums by this artist

. The ensemble is expanded to include twelve musicians, which more then doubles its size on their two earlier albums, and includes members from the earlier versions of the ensemble, like saxophonists Pawel Rogoza

Find albums by this artist

, Michal Pijewski

Find albums by this artist

and Michal Fetler

Find albums by this artist

, violinist Robert Bielak

Find albums by this artist

, keyboardist Marcin Szczesny

Find albums by this artist

, bassist Tom Struk

Find albums by this artist

and drummer Milosz Krauz

Find albums by this artist

, as well as others who play here for the first time. They perform ten original compositions, all by Sobanski, who also arranged it. The album was again released on the prestigious British ReR

Find albums on this label

label, which stays faithful to its Artists.

Musically this album shows yet another step forward for the group, which keeps changing like a chameleon, and yet retains a specific sound and feel, which by now are certainly their own. There is a shift from the earlier Prog and Ambient tendencies towards more Jazzy influences, which of course are emphasized by the expanded brass section and the appropriate arrangements. There is more of typical Jazz improvisation here, although rhythmically the music is still very much Rock based. The music is dark and moody as on the earlier albums, but also Funky and swinging at the same time. It appears that the ensemble is able to re-invent itself anew on every album, which is truly impressive. One can only hope that this can be repeated in the future.

By now it is pretty obvious that Sobanski is a major force on the Polish music scene, which should not be ignored or dismissed haphazardly. He has proved not only his talents as player / composer / arranger but also as innovator and visionary, with a burning desire to create and develop further. His restlessness is a blessing and hopefully the harsh reality will not be able to block his creative powers. Having done a remarkable job third time in a row he truly deserves both recognition and support. This is the kind of music, which keeps my faith in aesthetics, intelligence and creativity in a world full of superficiality, banality and zero values.

As already stated in my reviews of the two earlier albums, the music of Light Coorporation fails every attempt of categorization, since it is so original and unconventional on one hand and so encompassing on the other. As a result there should be something for everybody herein, regardless if the listener comes from Prog, Jazz or even contemporary Classical fields. This is simply great music, and as such needs no particular encouragement to be listened to. Just grab a copy of the album and listen – satisfaction guaranteed!
---