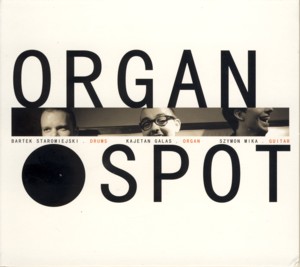 ORGAN SPOT ~ ORGAN SPOT
SJ 006 (Barcode: 5902596066055) ~ POLAND ~ Jazz
Recorded: 2013
Released: 2013
---
The Hammond B-3 Organ is one of my all time favorite musical instruments, with endless reminiscences overflowing my mind every time the unique sound starts buzzing in the air. Scores of superb albums were recorded using the B-3 over the years, not only in Jazz but also in Rock of course, and hundreds of keyboardists used the instrument over the years, which in time achieved a legendary status. In addition, the Hammond B-3 / guitar cooperation (in duos and trios mostly) has a fascinating tradition in Jazz from way back in the 1950s, which is still very much alive and kicking today. Therefore listening to this album was quite an emotional journey for me.

Organ Spot

Find albums by this artist

is a trio comprising of three young Polish Jazz musicians: organist Kajetan Galas

Find albums by this artist

, guitarist Szymon Mika

Find albums by this artist

and drummer Bartek Staromiejski

Find albums by this artist

. The album consists of seven tunes, five of which are Jazz standards and two are originals, composed one each by Mika and Galas. Not surprisingly the album was recorded at the excellent Studio Tokarnia and engineered by the studio owner and himself a fellow Hammond "brother in arms" Jan Smoczynski

Find albums by this artist

. The wonderful sound quality and ambience is one of the key factors which makes this album such a sweet gem, as Studio Tokarnia has a wonderful ability to create a truly "retro" sound, which resembles classic Jazz recordings for such legendary labels as Blue Note

Find albums on this label

. Watch out for the worn-out LP gap between the tracks in one case, which gives a hint as to the "retro" intensions herein.

The performances by all three trio members are spotless and incredibly well balanced. There are no ego trips here and they all play together respectfully listening to each other and supporting each other. Although the organ is obviously the center of attention on this album, the listeners should definitely pay attention to the incredible guitar parts, which are truly invigorating. Some great guitar players must be smiling in Heaven hearing this stuff.

Musically this album is not looking for innovation or breaking new ground; it´s all about keeping a wonderful tradition (sonically, stylistically and aesthetically) alive, and doing it in a fresh and interesting way. This album is every inch as good as any similar music produced anywhere else, which speaks for itself as far as the talents and abilities of these young musicians are concerned. Having respect for the tradition, studying and preserving it, are not self-understood these days and are definitely something to be praised and appreciated.

Overall this is as close to a perfect mainstream Jazz album as it gets; it is honest, well played, sounds great and most Jazz connoisseurs can enjoy it in full. Definitely a most impressive debut!
---