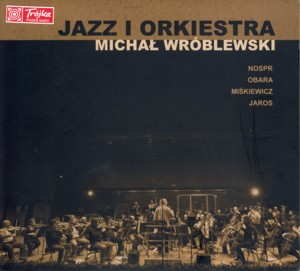 MICHAL WROBLEWSKI ~ JAZZ I ORKIESTRA
ELLITE 5903111529017 (Barcode: 5903111529017) ~ POLAND ~ Jazz-Classical Fusion
Recorded: 2013
Released: 2013
---
Following his debut recording with his piano trio, released a year earlier, Polish Jazz pianist / composer Michal Wroblewski

Find albums by this artist

returns with a new and much bolder project involving a Jazz quartet playing with a symphony orchestra. The album includes eight compositions, all originals composed and arranged by Wroblewski. Seven of the compositions were recorded by a quartet comprising of Wroblewski, saxophonist Maciej Obara

Find albums by this artist

, bassist Michal Jaros

Find albums by this artist

and drummer Michal Miskiewicz

Find albums by this artist

and accompanied by the Polish National Radio Symphony Orchestra in Katowice conducted by Szymon Bywalec

Find albums by this artist

. The eighth track was recorded live at the Polish Radio Three, without Obara and with drummer Pawel Dobrowolski

Find albums by this artist

replacing Miskiewicz and the Gorzow (Wroblewski´s home town) Philharmonic Orchestra conducted by Krzysztof Switalski

Find albums by this artist

.

The amalgam of Jazz and contemporary Classical music is quite a common phenomenon on the Polish Jazz scene, definitely more so than anywhere else in the entire world. There are many reasons contributing to this reality: the classical music education that many young musicians are exposed to during their studies, the openness of classical orchestras and their conductors to cooperate with Jazz musicians, the "higher" status of Classical music, which challenges Jazz musician to prove they can embrace the format and improve their standing in the music community and many others. Regardless of the motivation behind them, such projects are very popular and often result in excellent achievements.

This particular project presents the "easier" side of the Jazz-Classical Fusion, with a series of beautifully melodic pieces, excellently performed by the quartet and with the orchestra staying mostly in the background, playing the "second fiddle" (pun intended). One can speculate that this music would have sounded great without the orchestra being present; therefore the role of the orchestration seems a priori to be relatively limited. This is not to say that the overall result suffers from the orchestral arrangements, but on the other hand their contribution remains relatively restricted with little synthesis between the two elements, except perhaps for the last piece on the album, which is the most successful on that front.

The individual contributions by the players are all splendid, especially those by Obara, who exhibits a truly magical touch and heartbreakingly beautiful, soulful sound of his alto saxophone. Wroblewski plays also very well, with a both elegant, delicate solos and lively up tempo arpeggios, but concentrating mostly on stating the melodies. The rhythm section drives the music steadily and provides the basis, which holds the music together. Overall the album is great fun to listen to and is accessible to a large audience, including music lovers with little Jazz familiarity or those listening mostly to Classical music.
---