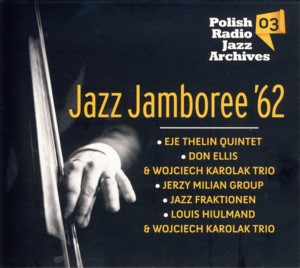 VARIOUS ARTISTS ~ POLISH RADIO JAZZ ARCHIVES VOL.03
POLSKIE RADIO 1599 (Barcode: 5907812245993) ~ POLAND ~ Jazz
Recorded: 1962
Released: 2013
---
This is the third installment in the new series of releases initiated by the Polish Radio, which presents archive Jazz recordings. Radio recordings are always a fabulous source of remarkable material, and as far as Polish Jazz history is concerned, the Polish Radio, which was a state monopoly for 45 years, recorded over time a plethora of invaluable material, which apart from the albums released by the Polskie Nagrania record company (also a state monopoly), is the only additional source of Polish Jazz recordings. For many years Polish Radio recorded concerts presented during Poland´s most important Jazz venue, the annual Jazz Jamboree Festival and many other festivals as well.

The material collected here presents recordings made during the 5th Jazz Jamboree, which took place between October 27 and 29, 1962 in Warsaw. The artists include two Scandinavian Jazz ensembles: Swedish trombonist Eje Thelin

Find albums by this artist

and his quintet and the Jazz Fraktionen

Find albums by this artist

quintet featuring the Danish saxophonist John Tchicai

Find albums by this artist

. One track features the American trumpeter Don Ellis

Find albums by this artist

accompanied by a Polish trio led by pianist Wojciech Karolak

Find albums by this artist

, which was already presented on volume 2 of this series, offering here an alternate take. Another track presents the quintet led by Polish vibraphonist Jerzy Milian

Find albums by this artist

, which features the legendary Krzysztof Komeda

Find albums by this artist

on piano. The last track presents the Danish vibraphonist Louis Hjulmand

Find albums by this artist

also accompanied by pianist Wojciech Karolak and his trio. At the time Poland kept a relatively open relation with the Scandinavian countries, as opposed to the Western Europe, which explains the presence of several Scandinavian players at the festival. Also some Polish Jazz managed to play in Scandinavia at that time, including Komeda.

Except for Ellis, who plays an original composition, all the other ensembles play Jazz standards, mostly Bebop, which was the model for most modern European Jazz musicians at the time, leading to the development of a new style, which would crystallize over the next few years. The performances are all excellent and their invaluable historical significance is beyond reproach. Beautifully restored sound quality and a warm ambience of the live analog recording is a true joy.

As usual with this series, which is very reasonably priced, I miss the presence of "in depth" liner notes / booklet, which should convey the circumstances at which this music was recorded and its meaning to the development of Polish Jazz in particular and Polish Culture in general. Nevertheless this is an essential piece of history which every Polish Jazz fan will surely consider an absolute must.
---