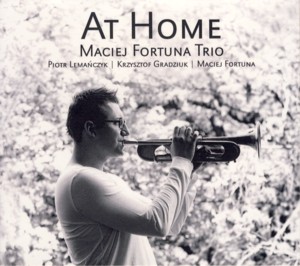 MACIEJ FORTUNA ~ AT HOME
FM 009 (Barcode: 888174080475) ~ POLAND ~ Jazz
Recorded: 2012
Released: 2013
---
This is the fourth album by the Polish Jazz trumpeter / composer Maciej Fortuna

Find albums by this artist

, who emerges as one of the leaders of the local scene in the second decade of the 21st Century. His prolific activity as a player and recording artist is unprecedented and his rapid development as a musician and composer, as documented by his frequent recordings, is simply astounding.

This album is a "home" recording in a trio format, with the same lineup that recorded Fortuna´s previous album "Sahjia

Find albums with this title

", which features the brilliant and by now veteran bassist Piotr Lemanczyk

Find albums by this artist

and the excellent drummer Krzysztof Gradziuk

Find albums by this artist

(of RGG

Find albums by this artist

fame). The material includes eleven original compositions, seven of which are by the leader and the remaining four (which are parts of a four-piece suite, the first of which features vocals by Marta Podulka

Find albums by this artist

) are credited to the trio.

Following a period of touring together, this trio is a prime example of team cooperation and collective effort, which results in the outcome being much more than a sum of its parts. One should hardly look at this music as a leader with a supporting rhythm section; on the contrary Fortuna puts his ego away in order to construct a unit, which performs as one. Obviously there is also plenty of superb soloing here, as appropriate for a Jazz recording; Lemanczyk plays way beyond a typical role required by a bassist; his lyricism and sublime feel of harmony create a whole layer of background sounds parallel to trumpet lines, Gradziuk hardly ever keeps time per se, using his kit as a melodic environment and less so as a rhythmic tool and Fortuna is of course phenomenal as a soloist, with a beautiful tone and breathtaking arpeggios. His playing is changing over time to become similar to the great Jazz trumpeters of the past, even somewhat similar to early Tomasz Stanko

Find albums by this artist

, but much more polished technically.

The most important characteristic of the wonderful music presented here is its minimalism and modesty. There is so much lyricism and melancholy in Fortuna´s compositions that they become probably the most genuine extensions of the Polish Jazz legacy that first started in the 1960s. It´s not a conscious attempt to play "retro" oriented music, au contraire it is completely up to date, and yet, at least for me, it carries on the tradition more than most other Polish Jazz ensembles do at the moment. There is also more freedom here than in Fortuna´s earlier recordings, without loosing any of the coherence and clarity his music is blessed with. This melody based Free Jazz is after all the ideal mixture of everything Jazz is all about: a perfect marriage of discipline and liberty.

This is a remarkable album by all standards and it is a pleasure to follow the development of such talented Artists, who are like a tree bearing better and better fruit year after year. There is nothing else one can do but raise one´s hat in salute and hope for the next harvest. God bless you guys for sharing this music with us.
---