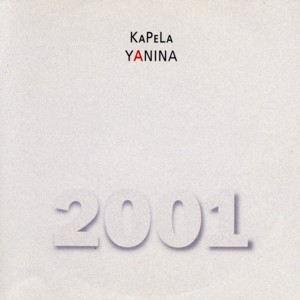 KAPELA YANINA ~ 2001
SELLES 0115 (Barcode: 5908260401153) ~ POLAND ~ Jazz-Rock Fusion
Recorded: 1998
- 1999
Released: 1999
---
This is the debut recording by the Polish Jazz-Rock Fusion quartet Kapela Yanina

Find albums by this artist

led by the veteran guitarist / composer Janusz Yanina Iwanski

Find albums by this artist

with saxophonist Lukasz Kluczniak

Find albums by this artist

, bassist Marcin Lamch

Find albums by this artist

and drummer Przemyslaw Pacan

Find albums by this artist

. They perform 8 compositions, five of which are originals by Iwanski, two are group compositions by Kluczniak / Pacan / Lamch (known together as the Kapela Trio

Find albums by this artist

) and the remaining one is by John Coltrane

Find albums by this artist

.

By the turn of the Century (and the Millennium as well) Polish Jazz was entering a new and exciting period. The first decade (the 1990s) of the country´s political freedom influenced Jazz potently and led to the development of the Yass phenomenon, which was primarily an expression of rebellion against tradition and destruction of limitations and formulas, which ruled previously for decades. Although aesthetically Yass was rather rough and often limited musically, its main contribution was the openness, especially among the younger Polish Jazz players, which allowed for cross genre / cross Culture exploration and experimentation.

Kapela Yanina exemplifies splendidly this new direction. Iwanski, a Blues, Rock and Jazz influenced player, manages to create a perfect new amalgam by inviting a saxophonist, who plays almost completely Free, a bassist, who is the personification of Funk and a drummer, who is steady as a Rock (pun intended). Together they are simply unstoppable and the music they create sweeps everything aside like a bulldozer. Just imagine John Coltrane and Jimmy Hendrix

Find albums by this artist

blowing their chops together.

Iwanski has a completely unique approach to his instrument. He plays only occasional solos, where he uses notes, but most of the time he plays chords, which are sustained, distorted and twisted and create complex, almost keyboards-like ambient background, which features the saxophonist as the main soloist. It is exceptional for a leader to give up his ego and allow someone else to play the first fiddle. Kluczniak is simply superb and plays with such confidence and fluidity, that one would never guess his age at the time this music was recorded. The fact that he remains relatively unknown to this very day is a travesty. The rhythm section is simply perfect, playing just what is right, from soft and delicate touches to a hurricane like storm at the climatic moments.

Kapela Yanina was one of the most interesting groups, which were active on the Polish Jazz scene at the time. They managed to record one more album, called "The Searchers For Something…

Find albums with this title

" a couple years later and then after an almost ten years long break they reunited and recorded the excellent "Yanina Free Wave

Find albums with this title

" album. The fact that all these three albums received little attention is simply beyond comprehension, as they all belong to the canon of Polish Jazz recordings.

This is an important piece of the puzzle, which is Polish Jazz, and anybody interested in it should definitely have this album in their collection. Apparently this album is still available and therefore I urge everybody to grab a copy ASAP, as this is definitely too good to be missed. Act now or be repentant later!
---