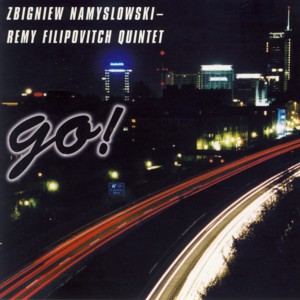 ZBIGNIEW NAMYSLOWSKI / REMY FILIPOVITCH ~ GO!
ALBUM 66919 (Barcode: 4022685201226) ~ POLAND ~ Jazz
Recorded: 2003
Released: 2003
---
This is a recording by Polish Jazz veteran Zbigniew Namyslowski

Find albums by this artist

and his quartet: pianist Krzysztof Herdzin

Find albums by this artist

, bassist Olgierd Walicki

Find albums by this artist

and drummer Grzegorz Grzyb

Find albums by this artist

, with the Lithuanian saxophonist Remy Filipovitch

Find albums by this artist

as a co-leader. They perform nine original compositions, six of which are by Namyslowski and the remaining three by Filipovitch.

Although excellently played by all the musicians involved, the album brings little adventure to the listeners. Namyslowski´s compositions are brilliant, but they are not new and were recorded previously on other albums. The two saxophonists cooperate very little except for a few unisono statements of the themes, soloing separately and not playing against each other or soloing together or even exchanging licks. Therefore the whole idea of a double-sax front line seems to be missed completely here.

Nevertheless this is still Namyslowski and a bunch of first-class players so the music sounds great and is a classic example of European modern mainstream Jazz at its best. With two saxophones up front the rhythm section gets naturally a bit less opportunity to shine, but Herdzin manages to squeeze in a few very nice piano solos. Walicki and Grzyb support the soloists steadfastly, as always.

Perhaps not the strongest album in Namyslowski´s lifelong and legendary legacy, but then again nothing he should regret or be ashamed of. Polish Jazz fans will find this a pleasant addition to their collection.
---