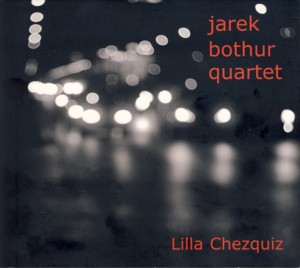 JAROSLAW BOTHUR ~ LILLA CHEZQUIZ
JAZZ FORUM 050 ~ POLAND ~ Jazz
Recorded: 2009
- 2010
Released: 2010
---
This is the debut album by Polish Jazz saxophonist / composer Jaroslaw Bothur

Find albums by this artist

, recorded with his quartet, which also includes pianist Kuba Pluzek

Find albums by this artist

, bassist Max Mucha

Find albums by this artist

and drummer Grzegorz Maslowski

Find albums by this artist

. The album presents six original compositions by the leader and one composition by the American pianist / composer Phil Markovitz

Find albums by this artist

.

I somehow missed this album at the time it was released, but now, having listened to it, I am again completely blown out of my socks by the audacity of these criminally young musicians to produce such a brilliant debut album, a phenomenon happening on the Polish Jazz scene repeatedly and mercilessly. Nobody in the world, who knows anything about Jazz, would have believed these players are in their twenties and still students in a music academy (at the time this music was recorded).

From the first note it´s pretty obvious that this album is something "different", which already is significant, as many Jazz albums have a tendency to sound alike. Both the way the music is performed and the actual compositions as strikingly unique, with a very specific chord changes and tonality. Bothur has a wonderful sound in his tenor saxophone and the quartet sounds overall superbly European, somewhat between Scandinavian spacing and Polish melancholy, even on the fast tempo numbers. Pluzek plays some tasty solos and accompanies intelligently and gracefully. I´d love to hear him leading a piano trio. The rhythm section is there all the time behind the soloists, steady as a rock and flexible like molten lava.

The original music (and also the choice of the Markovitz piece, which is relatively little known) proves that the leader has a highly developed pair of ears and excellent taste as far as writing new music is concerned. As already mentioned, the chord changes he uses are intrinsically unlike most others found in other Jazz compositions, which is pretty cool.

Overall a superb debut and another set of names to be added to the "watch" list for the future. Well done gentlemen!
---