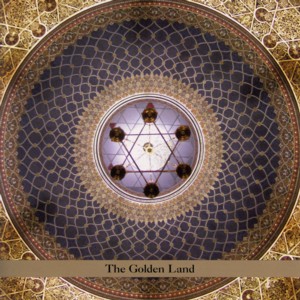 BESTER QUARTET ~ THE GOLDEN LAND
TZADIK 8178 (Barcode: 702397817826) ~ POLAND ~ Jazz-World Fusion
Recorded: 2013
Released: 2013
---
The Polish / Jewish poet / songwriter Mordechai Gebirtig

Find albums by this artist

was born, raised and lived in Krakow, where he also found his tragic death from a Nazi bullet in the Krakow Ghetto in 1942. His vast legacy proves he was the preeminent Yiddish songwriter of his time, but more importantly his prophetic vision of the Jewish fate in Europe is truly astounding in retrospect.

This album presents a collection of ten songs written by Gebirtig and performed by the Bester Quartet

Find albums by this artist

, a Polish ensemble, which also comes from Krakow. The ensemble was originally formed as the Cracow Klezmer Band

Find albums by this artist

in 1997 and later on changed its name to Bester Quartet. The songs were arranged by the leader of the Bester Quartet, accordionist / composer Jaroslaw Bester

Find albums by this artist

. The remaining members of the quartet are violinist Jaroslaw Tyrala

Find albums by this artist

, multi-instrumentalist Oleg Dyyak

Find albums by this artist

and bassist Mikolaj Pospieszalski

Find albums by this artist

. On this album the lineup also features three guest musicians: trumpeter Tomasz Zietek

Find albums by this artist

, cellist Magdalena Pluta

Find albums by this artist

(from Samech

Find albums by this artist

) and bass clarinetist Marcin Malinowski

Find albums by this artist

.

The Cracow Klezmer Band / Bester Quartet released eight (including this one) albums on the prestigious Tzadik

Find albums on this label

label, as part of the "Radical Jewish Culture" series, which marks them as the heroes of the Jewish Cultural Renaissance in Poland, which is now in its second decade. Some people, me included, find this "Renaissance" somewhat perplexing, intriguing and even a bit ridiculous, especially in view of the fact that there are practically no Jews left in Poland and the infamous Polish anti-Semitism is still looming in the background. But a thousand years of Jewish presence in Poland can be still traced and the fact that some artists are interested in preservation of this lost Culture is wonderful regardless of the circumstances.

Bester and his companions are all truly wonderful musicians and his skillful arrangements are delightful and quite sophisticated. I would have enjoyed this music much more if it wasn´t pre-sold under the Jewish tag, as honestly there is very little left of the original Eastern-European Jewish feel herein. Yes there are some sentimental violin or clarinet parts, and other typical shticks but overall this is simply some great Jazz-World Fusion, which sounds Argentinean, Parisian, Balkan or whatever, and honestly since I know these songs in their original versions since my early childhood, I´m not sure Gebirtig himself would have recognized them as his own.

Nevertheless this music deserves to be heard and can be enjoyed by music connoisseurs anywhere in the world. The level of performances and execution is definitely first-class and there is so much beauty and deep melancholy in this music that nobody should be left cold. Personally some other releases in the Radical Jewish Culture series on Tzadik made a much stronger impact on me than this release, but I can still appreciate the dedication and talent that went into making this recording. A bi gezunt!
---