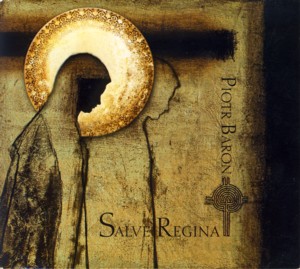 PIOTR BARON ~ SALVE REGINA
CELESTIS ~ POLAND ~ Jazz
Recorded: 2006
Released: 2007
---
Music and religion go hand in hand since the early days of human history and religion has always been a major force and inspiration for artistic activity, musical and otherwise. But as far as Jazz is concerned, the obvious links between religion and music have been, more often than not, hidden either subconsciously or purposefully. Polish Jazz saxophonist / composer Piotr Baron

Find albums by this artist

is one of the few Jazz artists who wears his religion on his sleeve, openly and consistently voicing his Christian belief, both as a person and an Artists, which is beautifully demonstrated by this album.

As the title suggests this album presents three versions of the "Salve Regina" antiphon, tracing its development over time, starting with its earliest 11th Century incarnation via a 16th and lastly 18th Century ones. In addition the album also includes two traditional religious hymns and two original compositions by Baron, which open and then close the album, both kept in similar spiritual mood as the rest of the album.

But if the subject matter of this music is highly unusual, the actual performances are even more astounding, since the music was recorded in the USA and features a quartet, which also includes the Polish (but resident in US) bassist Darek Oleszkiewicz

Find albums by this artist

and two American Free Jazz heroes: trumpeter Leo Smith

Find albums by this artist

and drummer Marvin Smith

Find albums by this artist

(not related to each other). Nolan Shaheed

Find albums by this artist

, who was the sound engineer on this recording, plays cornet on one track. This Polish-American quartet is one of the very few of its kind, which features musicians form two continents and from completely different backgrounds playing highly improvised music, which requires a unity of soul and mind of a higher sphere, which evidently was achieved herein.

This music, although mostly highly improvised, originates in the religious music, stating the melody at the start of each of the tracks and then moves away into the free spirit zone, where the musicians stretch out and make their individual statements as well as improvise collectively. The level of individual performances is obviously stellar, but Baron respectfully takes a step back from the position of the leader, allowing the trumpeter to be the dominant soloist on this album. Oleszkiewicz is simply brilliant, carrying the music almost single-handedly as the steady chord and rhythm indicator, allowing the other players complete freedom. His beautiful tone and solos are simply breathtaking. The drummer also keeps a low profile most of the time, as appropriate for this spiritual music, which has not an iota of aggression or unnecessary haste. When Baron does solo, his superb sound and fluidity wholly complete the music, respectfully wondering in the lyrical plane, which reflects his devotion.

Although not an easy piece of music, this is brilliant artistic experience, which true Jazz connoisseurs should be delighted with anytime anywhere and a superb example of music, which has a meaning way beyond the actual sounds. Thank you, as usual, Mr. Baron!
---