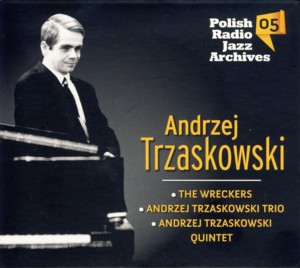 ANDRZEJ TRZASKOWSKI ~ POLISH RADIO JAZZ ARCHIVES VOL.05
POLSKIE RADIO 1609 (Barcode: 5907812246099) ~ POLAND ~ Jazz
Recorded: 1962
Released: 2013
---
This is the fifth installment in the new series of releases initiated by the Polish Radio, which presents archive Jazz recordings. Radio recordings are always a fabulous source of remarkable material, and as far as Polish Jazz history is concerned, the Polish Radio, which was a state monopoly for 45 years, recorded over time a plethora of invaluable material, which apart from the albums released by the Polskie Nagrania record company (also a state monopoly), is the only additional source of Polish Jazz recordings. For many years Polish Radio recorded concerts presented during Poland´s most important Jazz venue, the annual Jazz Jamboree Festival and many other festivals as well.

The material presented here presents the iconic figure of the post WWII Polish Jazz pioneer, pianist / composer Andrzej Trzaskowski

Find albums by this artist

. Of the twelve tracks on this album, first five are live recordings from the 1962 Jazz Jamboree Festival and the remaining seven are studio radio recordings from the same year. The material was recorded by three different lineups: The Wreckers

Find albums by this artist

quintet (which alternated bass players), which included saxophonists Zbigniew Namyslowski

Find albums by this artist

and Michal Urbaniak

Find albums by this artist

, bassists Roman Dylag

Find albums by this artist

or Juliusz Sandecki

Find albums by this artist

and drummer Adam Jedrzejowski

Find albums by this artist

, the Andrzej Trzaskowski Quintet, which had the same lineup as The Wreckers, except for drummer Andrzej Dabrowski

Find albums by this artist

and the Andrzej Trzaskowski Trio, which included bassist Roman Dylag and drummer Adam Jedrzejowski. The material includes both original compositions by Trzaskowski (four of the five live tracks) and modern Jazz standards.

Listeners familiar with the Polish Jazz history will of course notice immediately that the core of Trzaskowski´s group (Namyslowski and Urbaniak) was also the core of the soon to be formed revolutionary ensemble led by Krzysztof Komeda

Find albums by this artist

, and Dylag already played with Komeda as a member of his trio at the very same Jazz Jamboree 1962 Festival. This brings on the issue of the buried controversy as to who was in fact the pivotal Godfather figure of the Polish Jazz, Andrzej Trzaskowski or Krzysztof Komeda. Komeda (born 1931), who was a couple of years older from Trzaskowski (born 1933) but they both definitely belonged to the same generation, both dominated the scene in the late 1950s and early to mid 1960s and both were breaking new ground with their music, as performers and composers. Of course Komeda will go down in history as the overall winner of this little debated contest, due to his enormous international success as composer of film music, which Trzaskowski also dealt with but with a much lesser success.

Considering the fact that Trzaskowski´s recorded legacy is lamentably limited, this album is a superb addition to his heritage, especially in view of the top-form performances and fantastic remastering work, which makes the music herein sound fresh, clear and vibrant. Namyslowski and Urbaniak fans will also have a field day with this music, which documents the early days of their illustrious careers. This album is therefore a "must have" for any Polish Jazz fan, old and young alike, as this music is ageless and its historic significance is priceless.
---