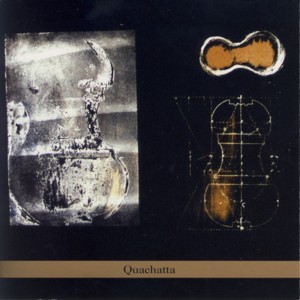 SAMECH ~ QUACHATTA
TZADIK 8169 (Barcode: 702397816928) ~ POLAND ~ Jazz-World Fusion
Recorded: 2011
Released: 2012
---
This is a debut album by the Polish Jazz-World Fusion quartet Samech

Find albums by this artist

, which consists basically of a string trio: Anna Ostachowska

Find albums by this artist

who plays voila, Magdalena Pluta

Find albums by this artist

who plays cello and Marek Lewandowski

Find albums by this artist

, who plays double bass with percussionist Robert Sztorc

Find albums by this artist

(who in his distant past was a member of the Prog outfit T.A.O.

Find albums by this artist

). The quartet plays acoustic music, which to some extent is based on Jewish and Klezmer music elements, but takes the music much further into Medieval European music, Turkish swirling rhythms, Sephardic, rather than Ashkenazi musical tradition and the Iberian Peninsula Moorish heritage.

The album consists of ten wonderful pieces, seven of which are written by Ostachowska or co-written / co-arranged with Agata Krauz

Find albums by this artist

, one is by Krauz herself, one is co-written by Pluta and Lewandowski and the remaining one is by the Davka

Find albums by this artist

ensemble (another great Jewish Music ensemble, from US, which also records for the Tzadik

Find albums on this label

label). The incredible sound of the viola and cello combined with the bass pulsations and mostly Oriental percussion is simply stunning and completely unique, which immediately places Samech in a class of its own.

The performances are all very exciting and manage to keep the listener on his toes through the entire duration of the album. The overall sound is well balanced with all four instruments clearly audible, which is such a relief opposite the much cluttered sound one comes across so often in contemporary recordings. This is a perfect example of innovation rather than imitation, which of course is highly commendable.

The album should delight many quite diverse audiences, as it speaks to World Music, Classical and Jazz connoisseurs alike and is of course highly recommended. Hopefully the ensemble will follow the superb debut effort with additional future achievements. Well done indeed!
---