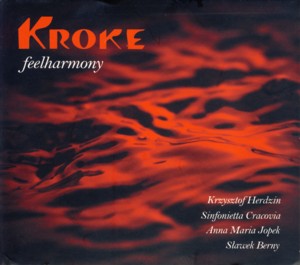 KROKE ~ FEELHARMONY
EMI 5099901770827 (Barcode: 5099901770827) ~ POLAND ~ Jazz-World Fusion
Recorded: 2012
Released: 2012
---
In autumn of 2011 I had the pleasure of being present at the opening concert of the Singer´s Warsaw Festival, which featured Poland´s most prominent World Music ensemble Kroke

Find albums by this artist

and their guest, superstar vocalist Anna Maria Jopek

Find albums by this artist

. Jopek, who in recent years discovered World Music herself, as evident on her latest recordings, was nevertheless quite a surprising partner for Kroke, and considering she only landed in Warsaw a few hours before the concert and managed only a brief rehearsal with them, things were quite tense. But when the lights went out and the music started, it was obvious that magic was in the air that night and for the next two hours the audience was completely mesmerized. Obviously the very same magic prompted Kroke to include Jopek on this, their next studio album.

Kroke, which consists of viola player Tomasz Kukurba

Find albums by this artist

, accordionist Jerzy Bawol

Find albums by this artist

and bassist Tomasz Lato

Find albums by this artist

, started in the early 1990s as a Klezmer band, one of numerous such bands established in Poland as a result of the Renaissance of the Jewish Culture in the country. They started to perform at Krakow´s old Jewish district Kazimierz, which became a fashionable tourist attraction, and in time their reputation grew. They were lucky to gain international attention and soon became the resident ethnic stars. In time they left Klezmer music almost entirely and embraced World Music originating in many different cultural spheres and added noticeable Jazz influence to their music.

For this album Kroke joined forces with, in addition to the a.m. Anna Maria Jopek, also the excellent drummer Slawomir Berny

Find albums by this artist

and pianist / composer / arranger Krzysztof Herdzin

Find albums by this artist

, who co-produced the album, composed and arranged some orchestral intros to the band´s music and conducted the Sinfonietta Cracovia

Find albums by this artist

, which performed the orchestral parts. The album presents twelve pieces, eleven of which are original compositions by the band´s members and one is by the pioneer of modern Klezmer music Harry Kandel

Find albums by this artist

. As the title suggests, the band intended to "take a step" into a more "symphonic" sound for their music, utilizing the orchestra.

Unfortunately, intentions aside, the album fails to achieve the same level of excitement and spontaneous inspiration, which characterized the live concert I witnessed. Although Jopek delivers some superb vocal parts, they constitute only a small contribution to the entire project. The orchestral arrangements sound quite out of place in this case, turning the free spirit of World Music into a housebroken animal, which is a pity. Some things simply don´t go well together. Overall there is plenty of great music here and even if the album sounds very commercial at times, it was created by excellent musicians, who meant well.
---