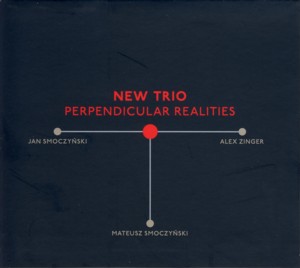 NEW TRIO ~ PERPENDICULAR REALITIES
TMP 004 (Barcode: 5903292104850) ~ POLAND ~ Jazz
Recorded: 2011
Released: 2013
---
This is the second album by the New Trio

Find albums by this artist

ensemble, which consists of Polish brothers: Jan Smoczynski

Find albums by this artist

, who plays Hammond organ and composed most of the music herein and Mateusz Smoczynski

Find albums by this artist

, who plays violin and is completed by Russian drummer Alex Zinger

Find albums by this artist

. The album includes twelve original compositions, seven of which were composed by Jan and the remaining five are credited to all the trio members.

Aesthetically the music continues exactly from the point where their stunning debut left off and presents more of the same unique sound, which exists only within the particular Hammond / violin / drums setting and which has but a few predecessors, most of which are French, where the violin has a firm position as a leading Jazz instrument. The superb Jean-Luc Ponty

Find albums by this artist

/ Eddy Louiss

Find albums by this artist

/ Daniel Humair

Find albums by this artist

trio immediately comes to mind as a point of reference. The same "retro" atmosphere, which characterized the debut album, is maintained here as well. The result however losses the surprise effect, that exemplified the reaction to the debut.

But surprised or not, the listeners will find here all the ingredients that make music great and worth listening to: superb compositions and first-class performances. Although well within the Jazz mainstream this music keeps the listener on edge, never being obvious or overtly predictable, with intellectual and emotional approaches intertwined. The diverse tempi enable showcases of different compositional tools, which work out very effectively.

As for performances, this album is full of exceptional playing with the violin work by Mateusz being simply virtuosic from start to finish. He is quickly establishing himself as one of the leading violinist not only in Poland, but now also on a worldwide scale and is surely destined to get far. But both Jan and Alex don´t fall far behind and their contributions are first-rate every step of the way.

Overall this is a splendid piece of music and a commendable follow up to their debut effort. Having passed the dreaded "second album" trial with flying colors, they now have a carte blanche to continue this path as far as I´m concerned. Both Jazz violin and Hammond organ connoisseurs will absolutely love this album from start to finish and it is wholeheartedly recommended to every Jazz enthusiast.

We must not forget also the fact that Jan Smoczynski is not only a great musician, but also one of the top (if not the top) sound engineers in Poland and his legendary Studio Tokarnia, where this album was recorded, is one of the best in Europe and produced a myriad of albums of extraordinary sound quality. Hats off!
---